Sushiyama - Vancouver, BC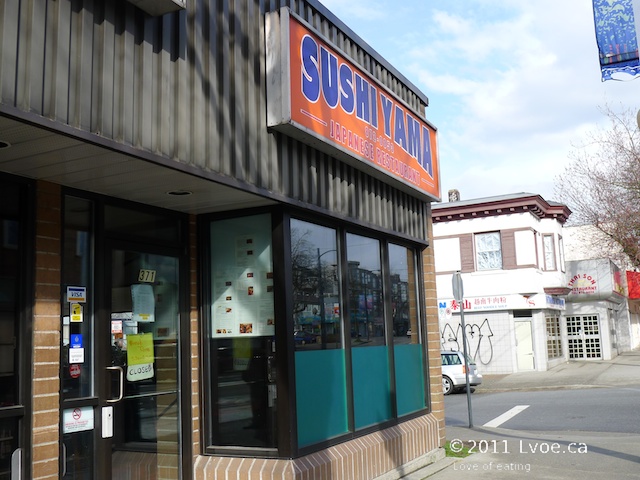 Sushiyama. There are literally hundreds of sushi places in the GVRD. This one never called out to me. Until now. I was exchanging favourite places-to-nosh with a Love of Eating reader and Sushiyama came up as his go-to place when down on the coast. Sushiyama is in a convenient location for me as I find myself in this area of Broadway very often when I head down to Vancouver. I'm here for a few days...
Ding! Quittin' time! I head straight over to Sushiyama after work, and happily there is no line up. Obviously a very popular spot; the small restaurant filled to capacity within 20 minutes or so.
Assorted Sashimi (11.50)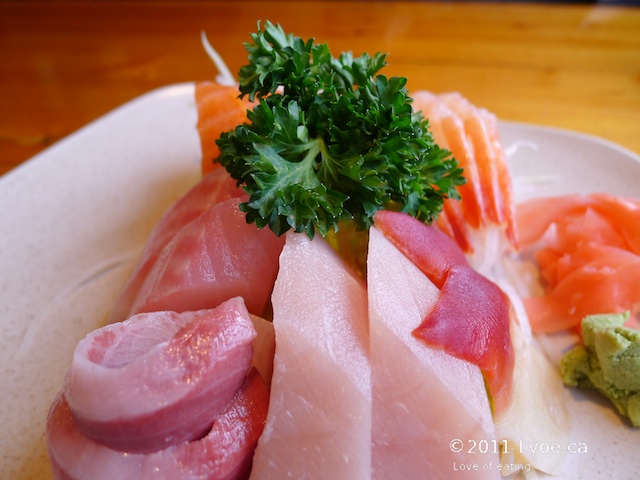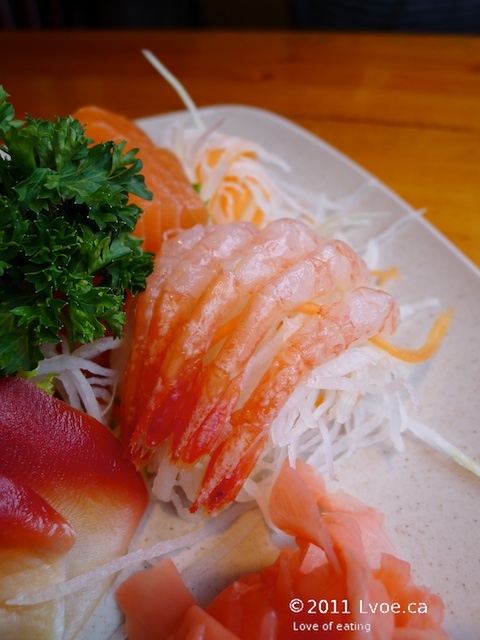 The slices of fish are thick and meaty. The assortment consists of toro, tuna, salmon, sweet prawn, surf clam and red snapper. Do yourself a favour and click on the photo to enlarge. Take a look at that fatty tuna belly on the bottom left. So supple, it just melts when it hits the tongue. Gawd, I'm still fantasizing about that toro now. Amazingness.
The maki…
Mango Mango Roll ($4.50); Spicy Chopped Scallop Roll ($3.75)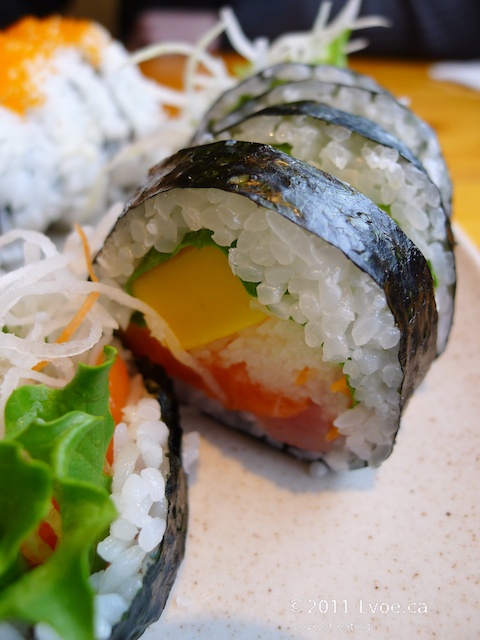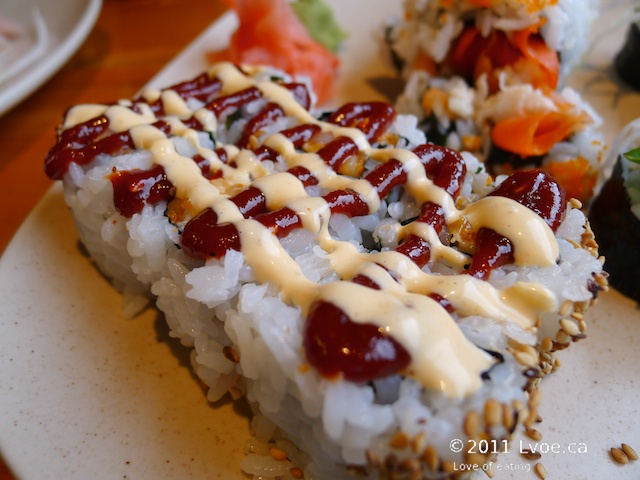 Mango Mango is a mix of fruit and fish. In addition to mango, there is salmon, tuna and crab rolled in the mix. The tart sweetness of the mango makes this roll light and refreshing. The spicy chopped scallop roll is pretty straight forward. I don't often order the "saucy" rolls, so this is a treat.
Red Dragon Roll ($7.50); Monkey Tear Roll ($6.75)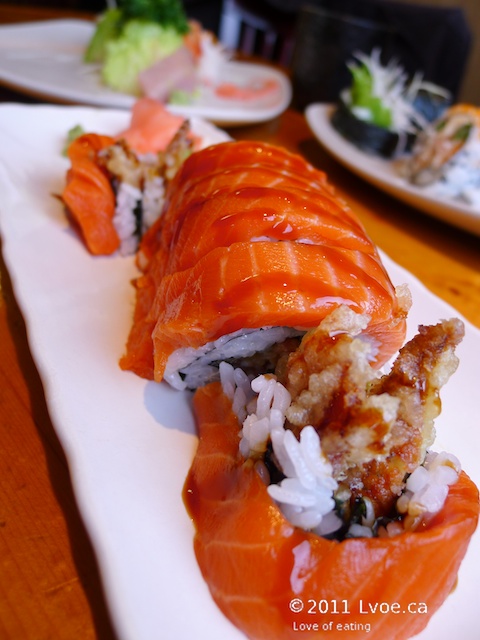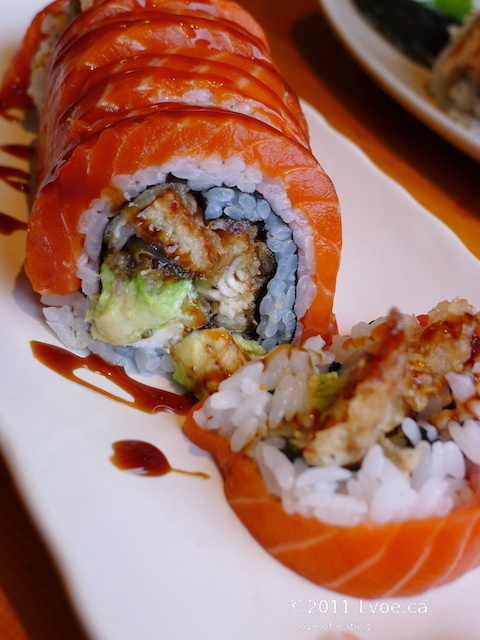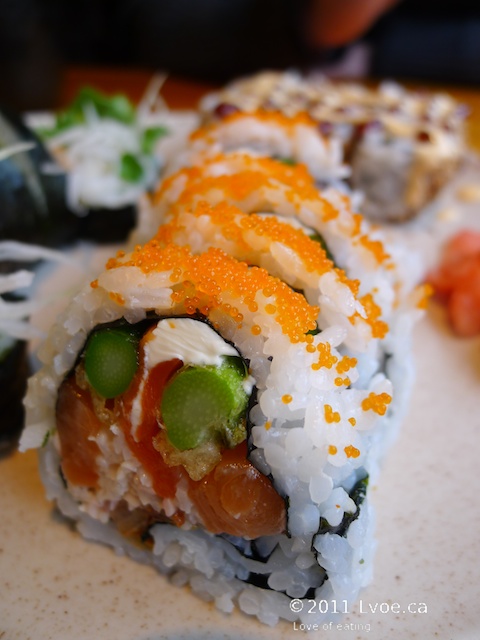 The Red Dragon may be my favourite roll today. It's presented to look a bit like a fire breather. You might be able to see the dragon like-ness from the first photo. Whereas the second photo from the "tail end" gives an idea of what's inside. This magic dragon is made of tempura eel, cream cheese, avocado and sockeye. The soft cream cheese makes it over the top rich, while the tempura adds an anticipated crunch. I love food with a combination of textures! The monkey roll contains asparagus, cream cheese, smoked salmon, crab, and a sprinkle of tobiko on top. The asparagus is cooked perfectly and added a vegetable quotient to the meal. Pretty good.
Soft Shelled Crab with Ponzu ($8.95)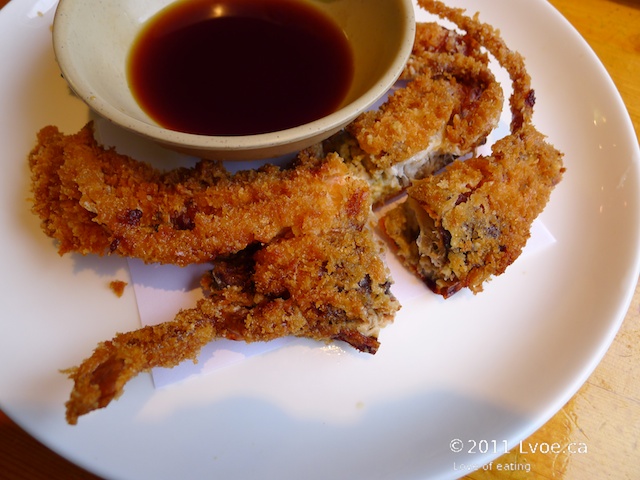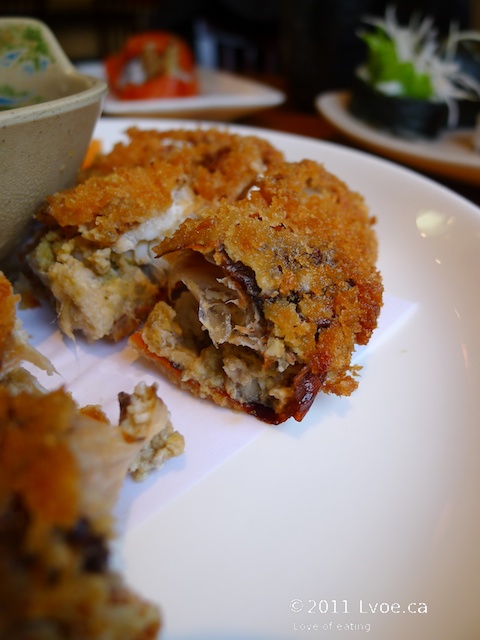 I ordered this on a whim at the very last minute as I was handing the menu back to the server. The deep fry is not greasy at all. Crunchy and light the crab is good on its own without the ponzu, if you're not into dipping. There's not much flavour to this crustacean, it's mostly for the crunch.
Salmon Kama BBQ Salmon Neck ($4.75)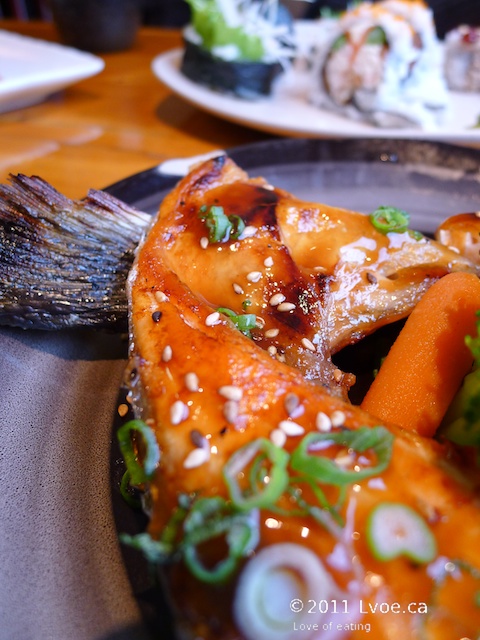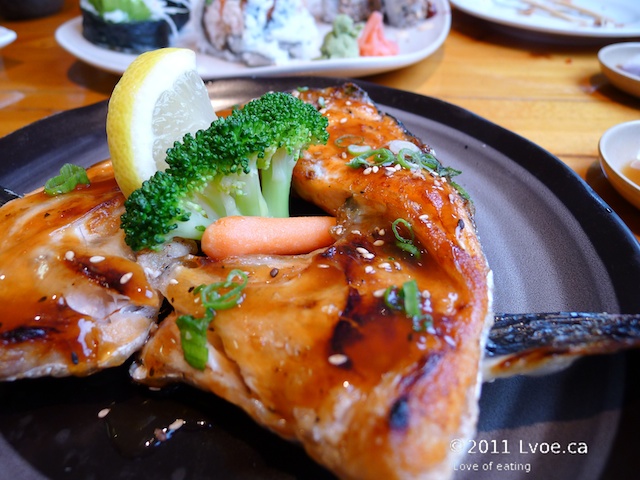 Predictably delicious. The head, neck, and belly of salmon has got to be some of the tastiest bits I've ever encountered. It's crazy that some folks throw these pieces away. The neck is simply grilled with an easy-going amount of sauce. I love it when the fins are grilled or fried enough to eat like a cracker. You will need to know how to navigate bones in a dish like this, but it is totally worth it. So good.
Sushiyama has super fresh ingredients, well prepared rice and more than reasonable prices. The above came to $53.42.
I can't believe I've been driving past this place for so long. It really doesn't jump out at you as a place to go, does it? I mentally read the orange sign every time I drive by, but I never thought to try it. I'm glad I did. Big thanks the Love of Eating reader that brought Sushiyama to my attention.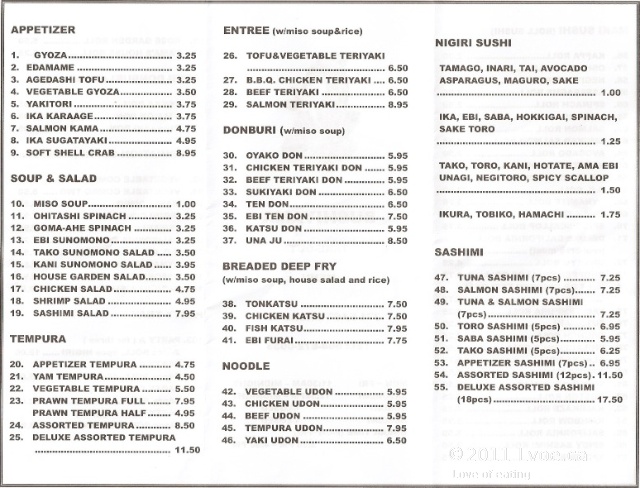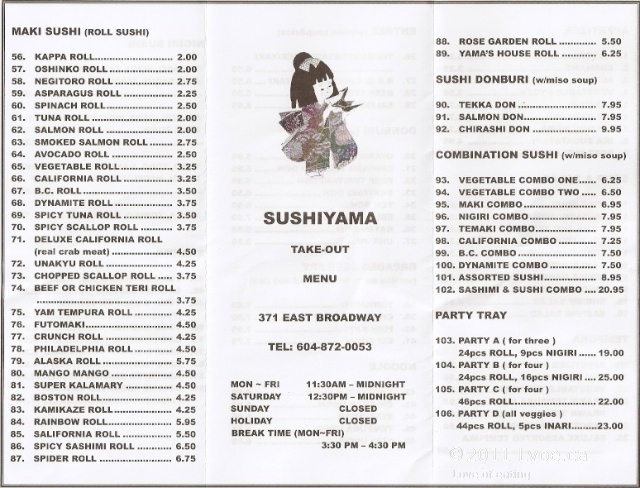 Locations
Sushiyama
#369-371 East Broadway
Vancouver
,
BC
V5T 1W5
Canada