Red Star Seafood Restaurant: Dim Sum - Vancouver, BC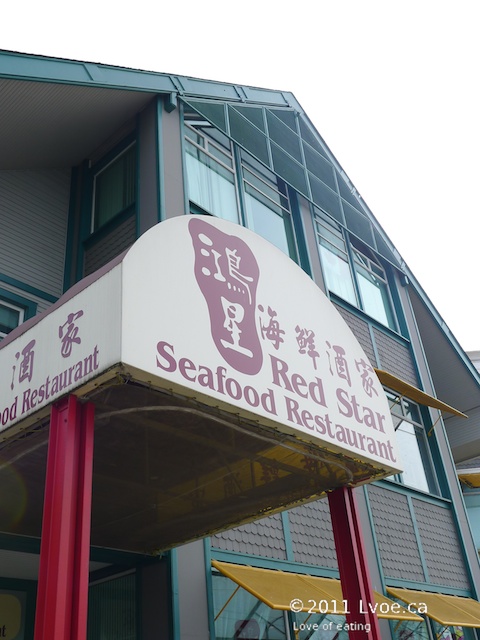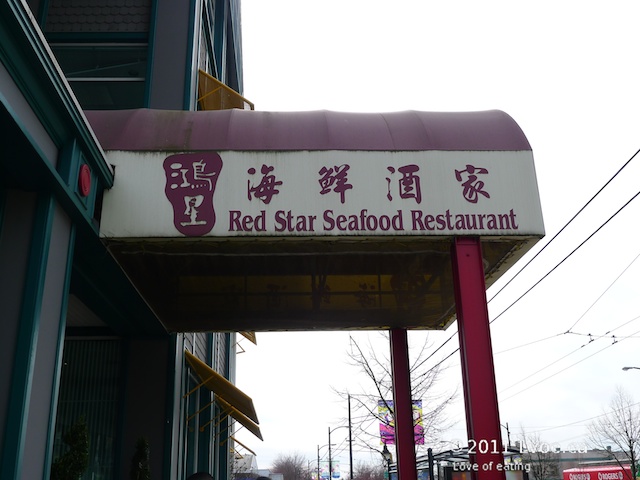 Red Star Seafood Restaurant, the last time I ate here was several months ago for a 10 course dinner service. I've heard good things about their dim sum, so I am very eager this morning to give it a go.
Deep Fried Pork Dumplings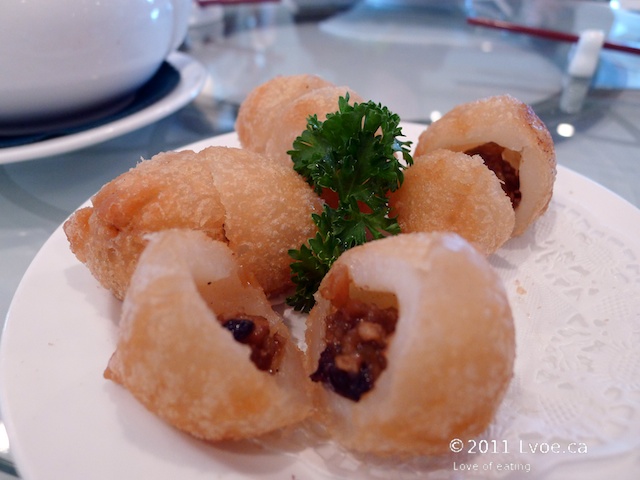 Light and non greasy. Crispy sweet glutinous rice dough outside and savoury pork on the inside.
Chicken Knees *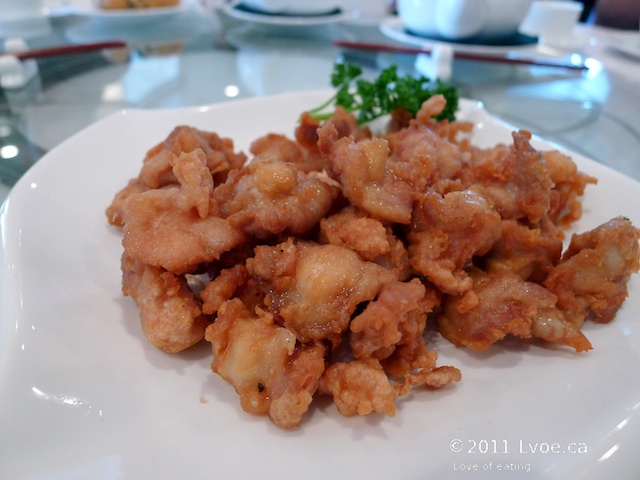 This is what "popcorn chicken" dreams of being. If you're not a fan of cartilage, then these are not for you. I love cartilage-y things. The knees are crunchy and the soft bones "pop" in my mouth. Fun! Red Star's version is a little different than other restaurants. Usually these are served garlicky with jalapeños, but here they have a bit of sweetness to them. It's a nice change. I like it.
*Note: Sometimes these are called "chicken ankles." I think it's safe to say they're referring to the same joint with respect to our poultry friend.
Green beans with Pork and Fermented Black Bean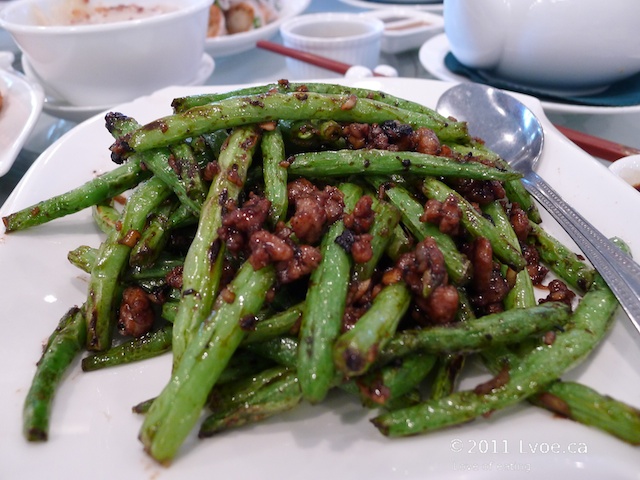 Can you tell I'm dining with others? I rarely order vegetable dishes at dim sum. The beans are snappy and the pork crumblies add just enough savory to the veg.
Steamed Radish/Turnip Cake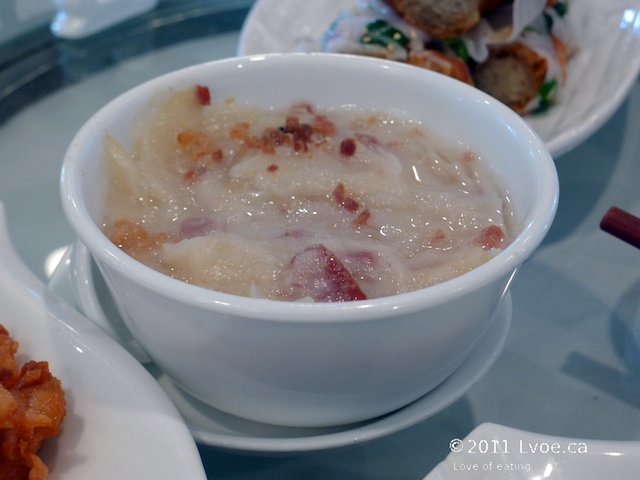 I think most people are familiar with pan fried radish cake at dim sum. This is the same thing with the same flavours, but steamed in a bowl. It's a different texture. It's not as firm or as oily as the kind that is pan fried. The radish is shredded a little thicker too. Did you know this is pretty easy to make at home? You just need a pot big enough for the steaming.
Rice Rolls with Chinese Doughnut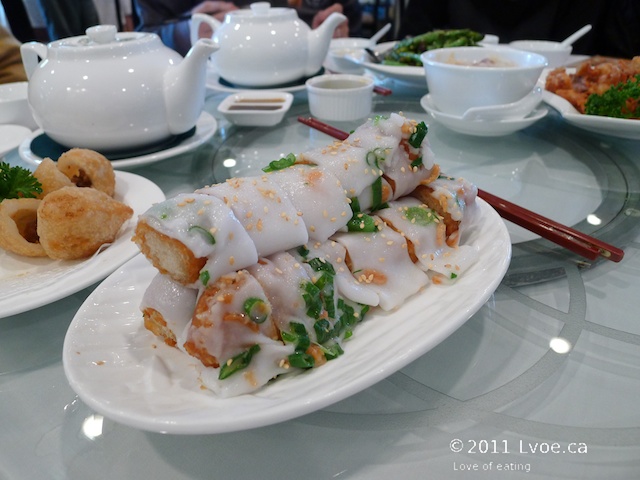 The rice rolls are velvety and the doughnut still crisp. Tasty even without the peanut sauce condiment.
Prawn Dumplings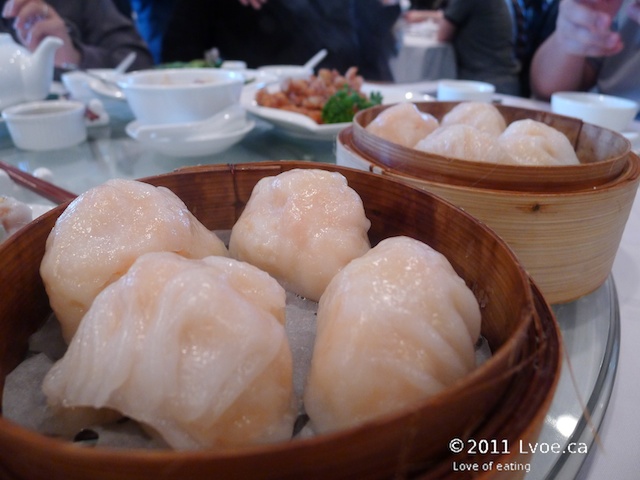 The ha gao is very good here. The skin is thin and translucent, but robust enough to hold the goods. The packages are packed with crunchy prawns. Packed!
Preserved Duck Egg and Pork Congee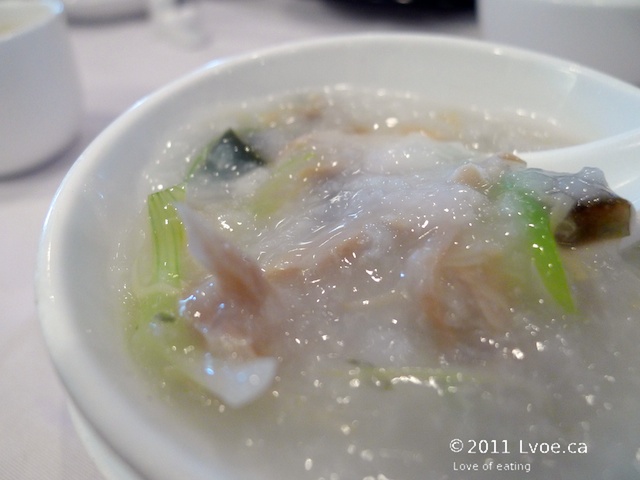 I love congee. It's such a luxury to have congee made for you at a restaurant. I can never get mine as smooth and rich like the restaurants do. I don't have the patience for it to simmer away all day in my kitchen either. So simple, but so good.
Fish Tofu and Mushrooms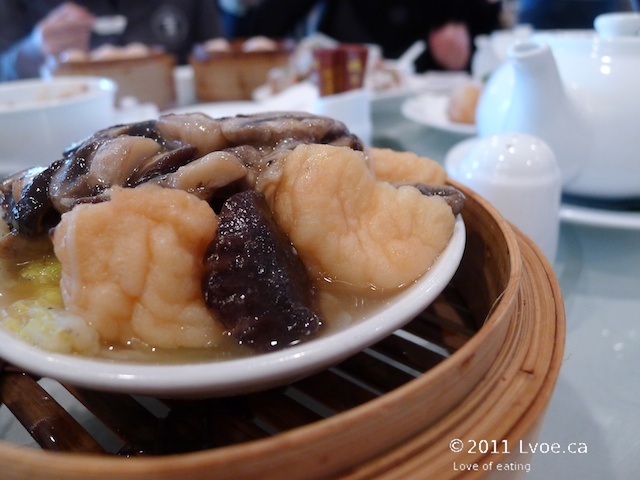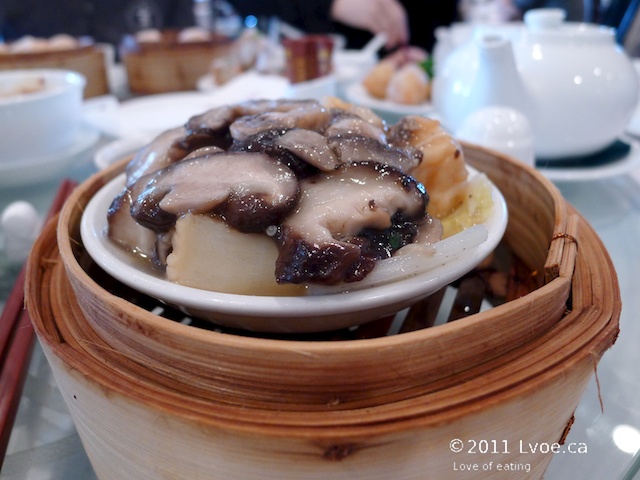 It looks like tofu, but it had the texture of fish. Delicate in flavour. I can distinctly taste the mushrooms and fish separately…me likey.
Phoenix Claws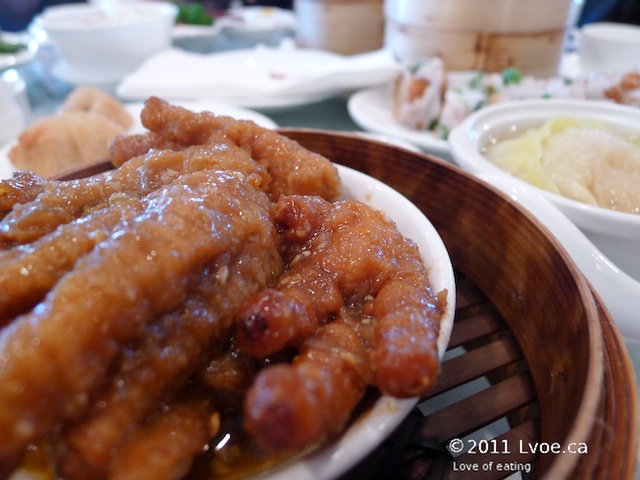 Chicken feet are a staple at dim sum for me. Sorta like those two dumpling dishes. Ha gao and sui mai. Red Star makes a more refined version of chicken feet. Yes, I just used the term "refined" in the same sentence as "chicken feet." Deal with it. The taste is not so much in-your-face as some other places. It's milder, but as you eat it all the significant flavours are still present.
Abalone Shark Fin Dumpling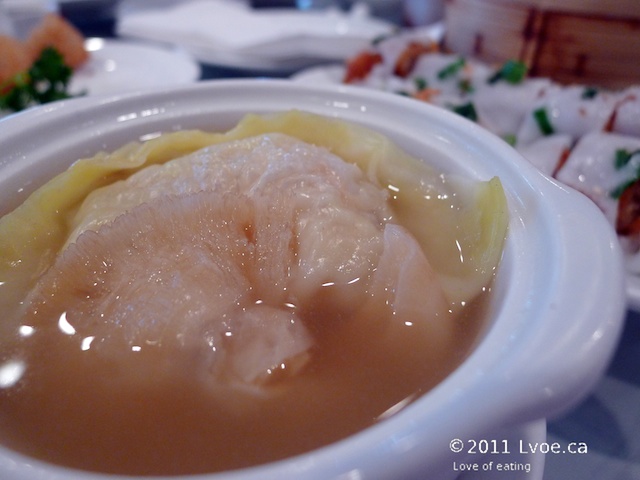 I'm not a big abalone or shark fin fan. But the broth that goes along with this dish is some of the richest tasting soup that's ever hit my lips. Very nice. As for the rest of the dish, I can take it or leave it.
Sticky Rice wrapped in Lotus Leaves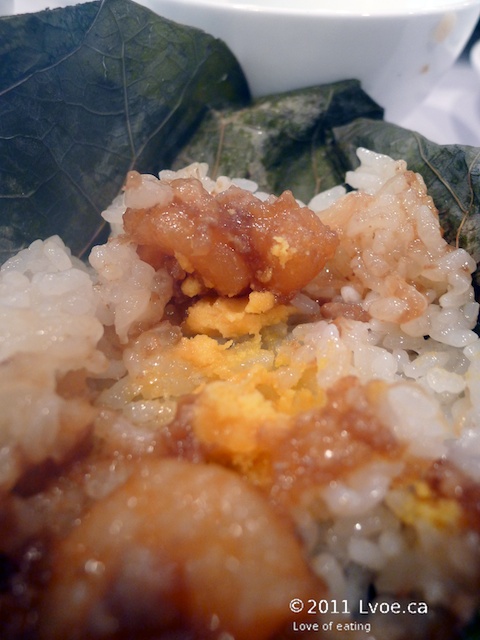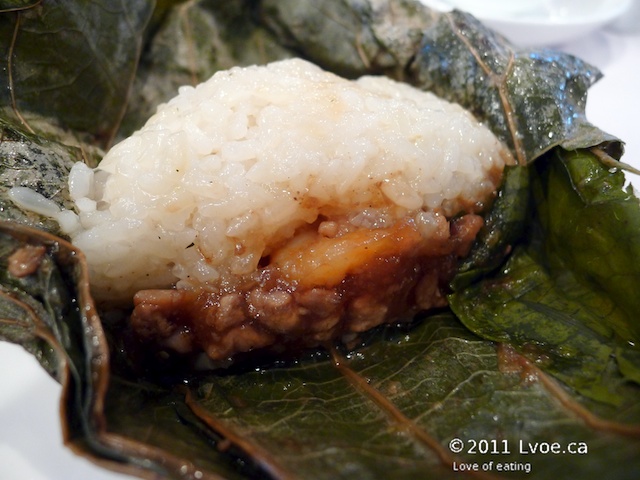 This is one of my favourite things to eat. I luurve sticky rice. I heart Red Star for including a duck egg yolk in these little bundles.
Mango Pudding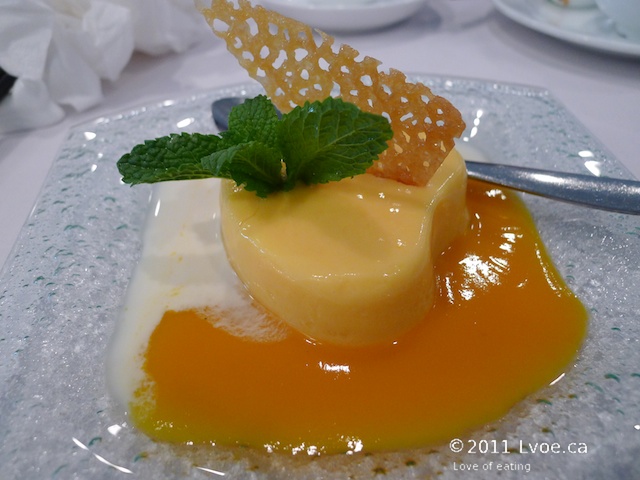 Very mangoey and brightly plated. The evaporated milk and mango coulis on the side gave the heart shaped dessert a little juiciness.
Doufu Fa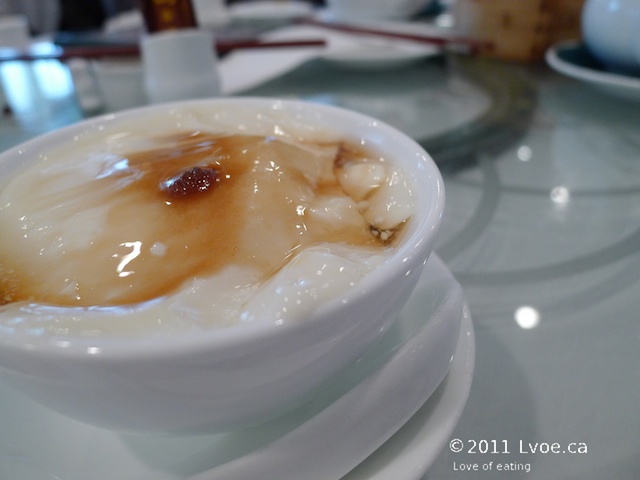 I don't know what this may be called in Anglais. Perhaps, tofu pudding? Doufu Fa is very soft tofu with sweet syrup over it. It's a subtle sweetness in a creamy-ish dessert. It's a bit like that dessert tofu stuff that Sunrise makes, but far silkier.
(Sigh)...Food is what makes me miss Vancouver the most.
I hope everyone is enjoying the last day of the Victoria Day long weekend.

Locations
Red Star Seafood Restaurant
8298 South Granville Street
Vancouver
,
BC
V6P 4Z4
Canada