Caffé Arianna - Kamloops, BC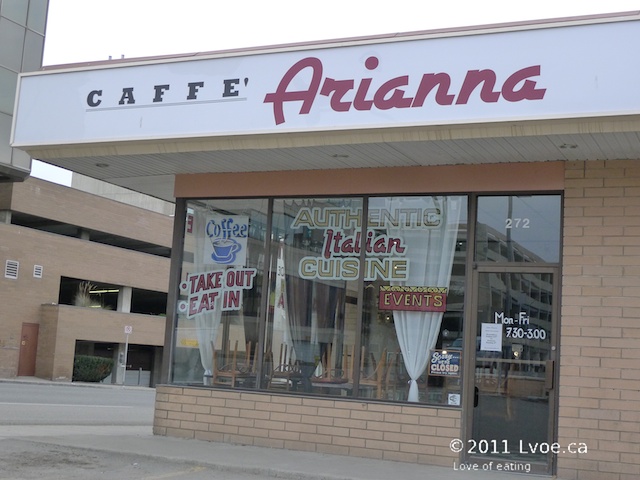 **UPDATE January 2014: It pains me to type this, and share the sad news that Caffe Arianna is now closed. The location now houses Sikora Caffe.**
Finally Caffé Arianna in Kamloops. I can't even begin to describe how long I've been trying to eat here. My schedule and Caffé Arianna's opening hours just never jived. We barely made it here today.
Lemme just say this: I had that tingly good feeling when I walked in, because any place, ANY place that plays Tom Waits is after my own heart. Over the years I've worked in various places, and to each position that allowed music, Tom came with me. (Early Tom, that is. When he wasn't a walking syringe. Was there ever such a time?) It annoyed the hell out of my colleagues, but oh well. Caffé Arianna had the Heart Attack and Vine album playing up until just before I finished dessert.
Nut'Ellie ($3.95)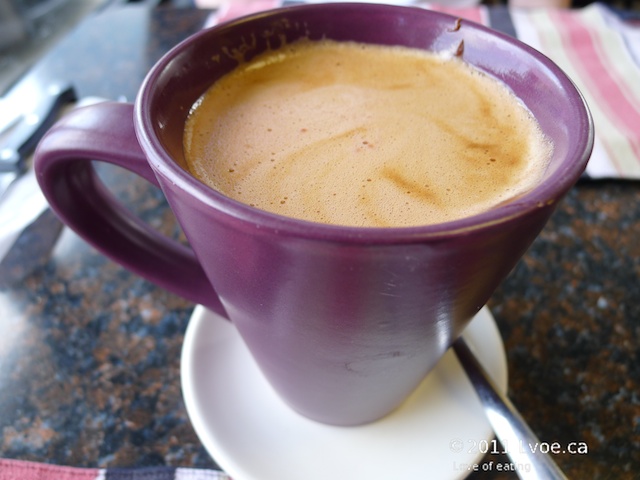 It's basically a mocha with Nutella lining the mug. The mug is huge and the drink rich. It sustained me throughout the meal.
Italian Hot Chocolate ($3.30)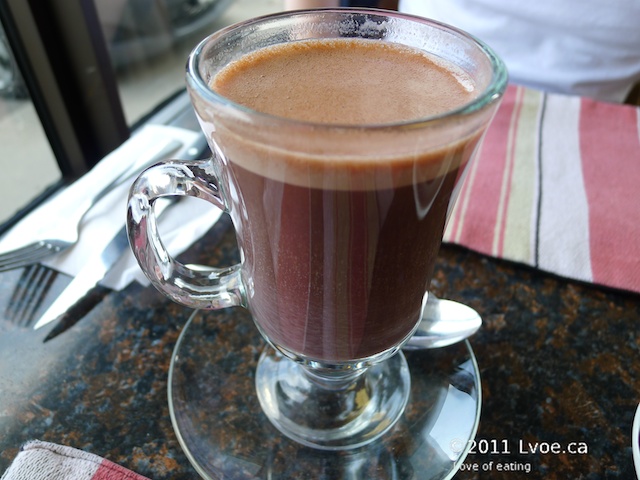 Do you watch Modern Family? Remember that episode when Cameron goes to a Columbian restaurant with Gloria and he tries to order a way-too-spicy-for-him Carnitas Diablos? Then the server says, "No, no, no. You should have the chicken enchiladas."
DL initially orders a Moroccan. The server hilariously sums DL up in his mind and says, "That's a very strong espresso and it's about this big." (Motions with his index finger and thumb to denote the size of the cup.) The unspoken hint being, "You can't handle it."
DL then dejectedly orders a hot chocolate. Bwahaha! This Chocolate Jesus ended up being a more fitting choice. It tastes like a liquid brownie. DL's happy, and I have a little scene that I can replay in my mind every so often for a good chuckle.
Penne al Ragù with soup ($8.50)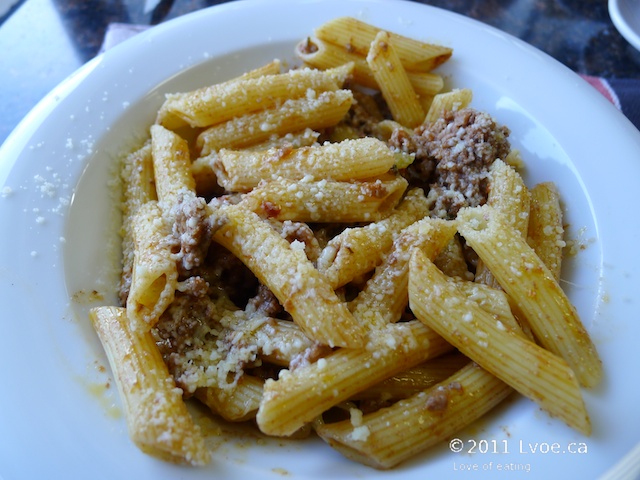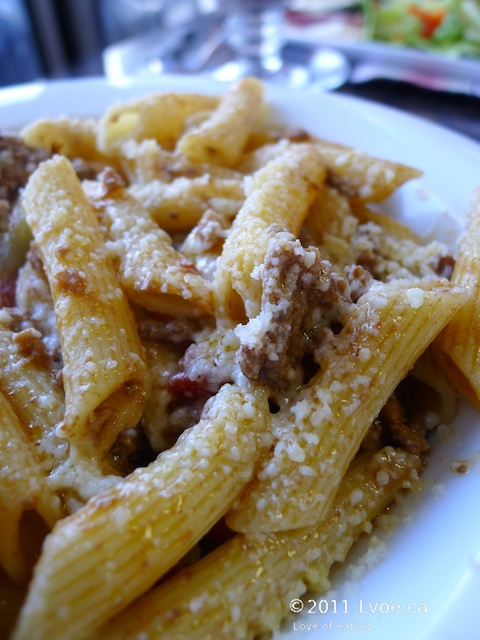 The penne came out smokin' hot, and it stayed smokin' hot even after I finish my soup. Love pasta done this way. It's light in sauce but heavy in flavour with ample use of olive oil. The serving size is deceptive. The pasta bowl is deep, and the portion is generous enough that I shared it in order to have room for dessert.
Yellow Pea Soup with Foccacia ($4.50)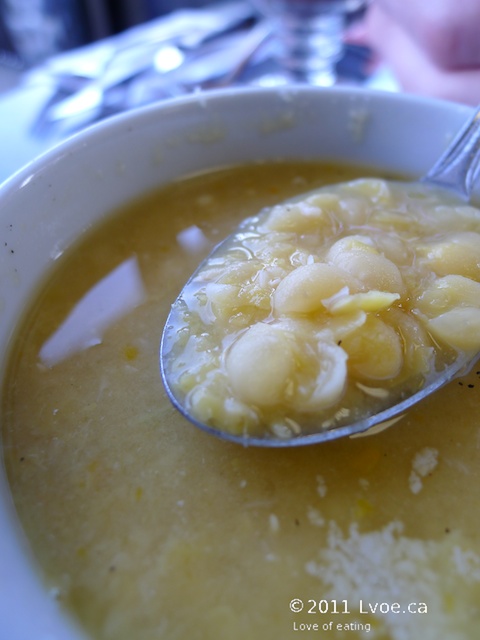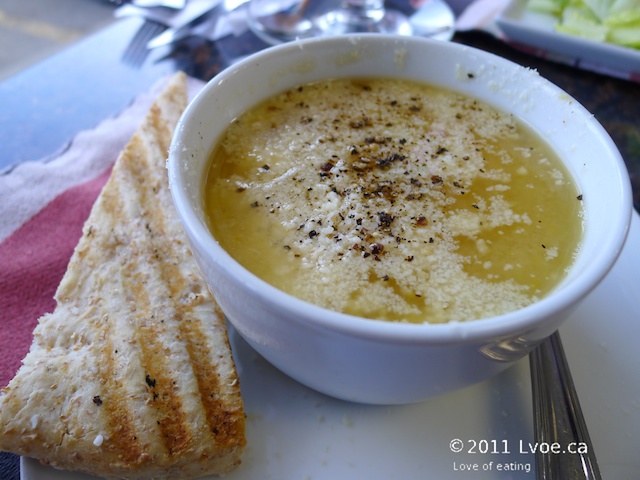 This is included in the price of the Penne al Ragù but it's a good size bowl of soup to have on its own for $4.50. The thin layer of parmesan and pepper on top adds just the right amount of seasoning to the yellow soup.
Max's Panini ($7.50)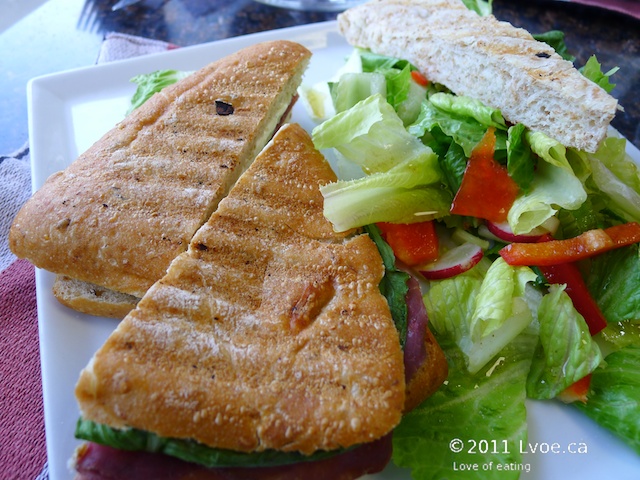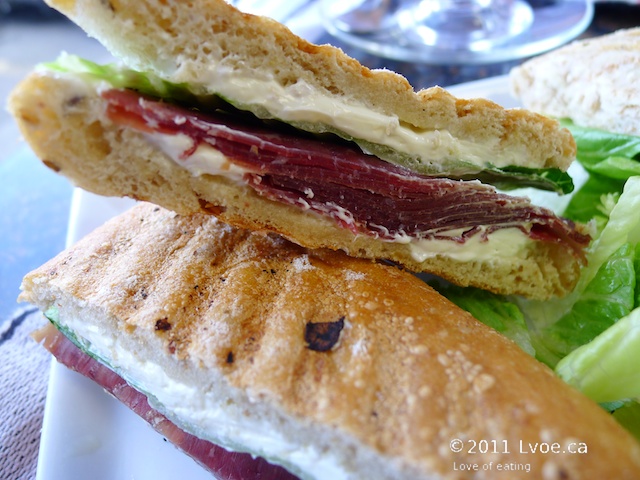 This also includes a choice of soup or salad. Lots of thin slices of bresaola piled thick inside the foccacia. The creamy cheese added a smoothness that balanced out the beef. I don't eat a lot of cured beef, but I do love me some cured pork in any form. I love the fact that we can make a meal with just a paper thin slice of preserved goodness and a baguette. Cured meat should be used as currency, no? I enjoyed this sandwich choice and am also very pleased that Caffé Arianna give their salads a lil' sprinkle of salt. So few people I know do this. It makes a huge difference, and you will only need a touch of oil and vinegar to complete a salad.
Lemon Sorbet ($3.00)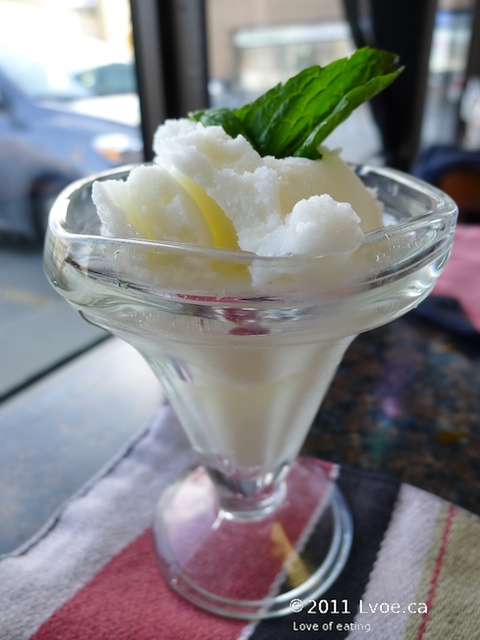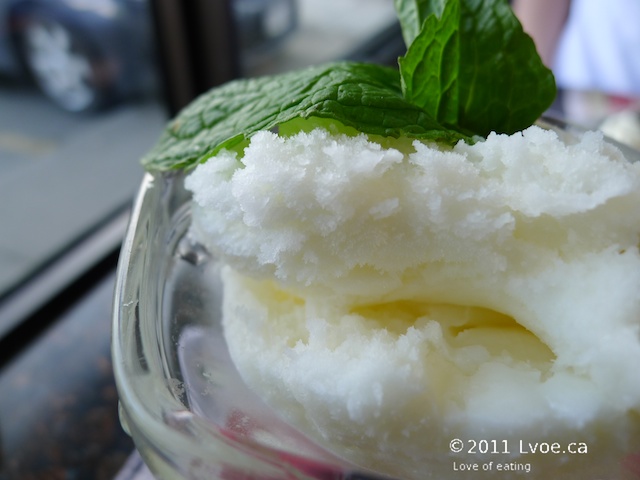 Bam! What a punch of tartness! I love tart n' sweet things, leaning more on the tart. The Lemon Sorbet is lip puckering tart. My salivary glands are remembering this as I type. Can't tell by the photo, but the sorbet granules are actually very fine and smooth once I dipped my spoon in. Perfect palate cleanser at the end of a meal.
Homemade Tiramisu ($3.00)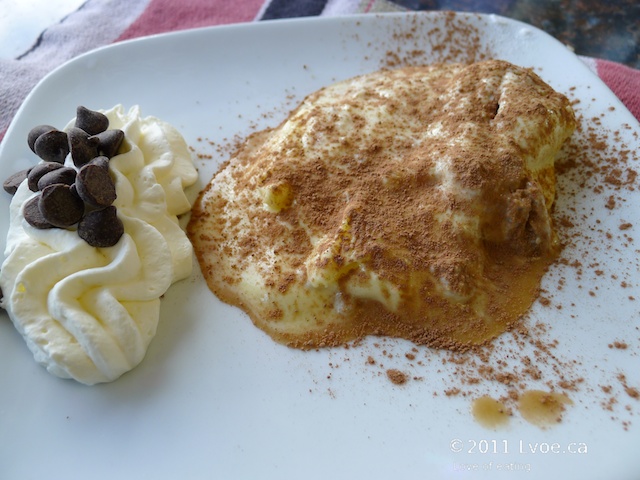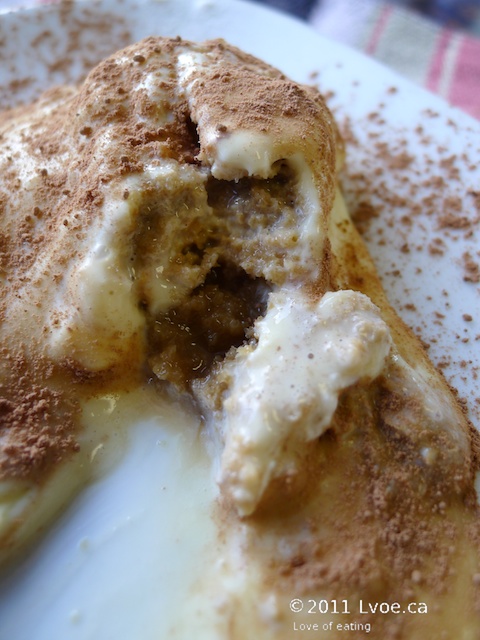 This badass is made trifle styles. The zabaglione is velvety smooth with most of the sweetness coming when I hit ladyfinger territory. The whipped cream and chocolate chips on the side didn't add much, so I let them become garnish. The tiramisu is not fancy, it's just good.
I think the entrées are a fabulous deal for fewer than 9 bucks. Caffé Arianna has good-for-you, house made food, with whole ingredients. What else do you need?
It took me a long time to get an opportunity to eat here. Caffé Arianna is open weekdays 'til 3pm. Some time ago, a Love of Eating reader informed me that they are experimenting with having regular dinner hours. Unfortunately, that still didn't help my wacky schedule. They occasionally do family style themed dinner nights and cooking lessons too. Sounds fun.
If you're lucky enough to make it here before Closing Time, Caffé Arianna is a great place for a homemade lunch or coffee. The café is located in Downtown Kamloops on a much less infamous corner of Lansdowne and Third.

Locations
Caffé Arianna
272 Lansdowne Street
Kamloops
,
BC
V2C 1X7
Canada