Passek's Classics Café and Catering - Kamloops, BC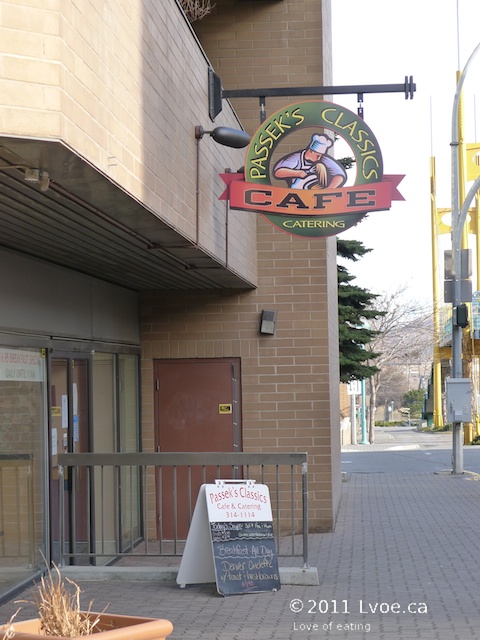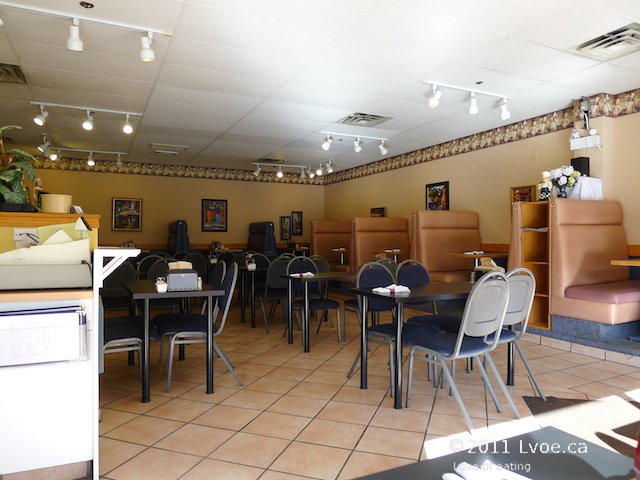 Passek's Classics Café and Catering. I didn't know this place existed. I happened to glance over one morning as I drove by and noted the $6.95 breakfast sign. Apparently Passek's has been here for a few years.
I'm on Third Street at some point in the day every time I'm in Kamloops's downtown area, and I've never been observant enough to notice. It may be because as I'm approaching the corner of Third and Lansdowne, I'm so pre-occupied with turning left on Lansdowne that all the storefronts near street corners become a blurred mess of colours and window reflections.
Going out for a Saturday breakfast is one of those affordable luxuries I relish in. During the week I'm a light breakfast eater, simply because of time. I appreciate sleep as well as food; during the week I like as much sleep as possible. This usually means a grab and go type of morning food. So to have an hour to linger in conversation and to eat food prepared for me, with no dishes to clean afterwards, it is truly a luxury. I appreciate every minute of it.
Passek's Classics Café and Catering is located close to the corner of Lansdowne Street and Third Avenue in downtown Kamloops. The breakfast menu is straightforward and it contains all the standard diner style comfort foods. Omlettes, Bennys, skillets, pancakes, steak n' eggs, corned beef hash…etc.
Passek's Ultimate Skillet ($10.95)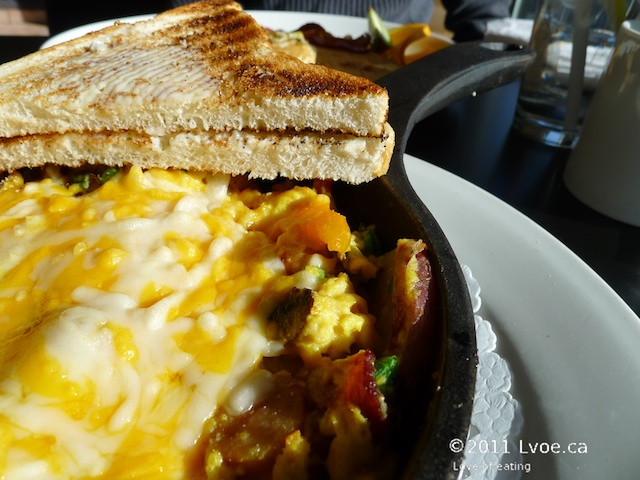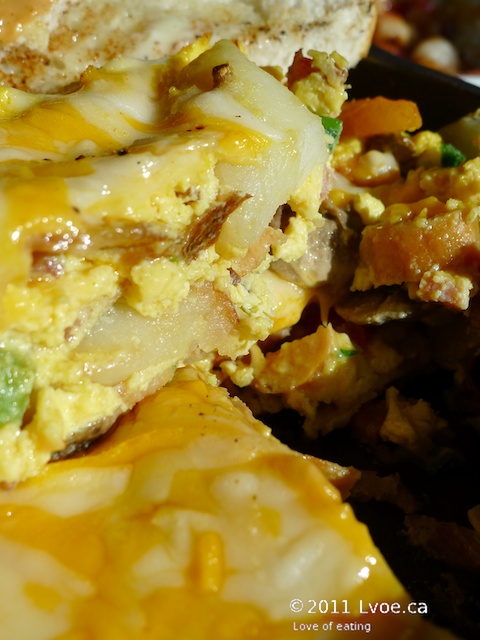 I am torn between the German Bratwurst Breakfast and Passek's Ultimate Skillet. Our server had high praise for the skillet so I went with that. It lands on the table in an approximate eight inch cast iron skillet, and filled to the brim with eggs and potatoes. The herby potatoes are hand cut and keep a good spudsy aroma even when mixed in with everything else. The skillet and its contents are fresh looking and piping hot. Underneath the shredded cheese there are sausages, bacon and ham swimming about amongst the peppers and onions.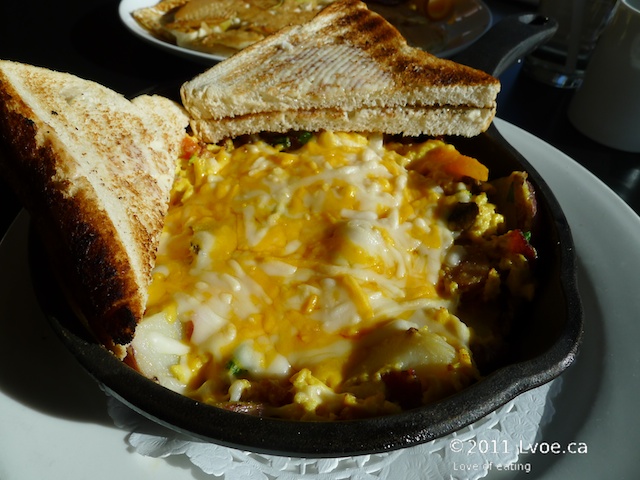 What a beast of a breakfast! I need ample help finishing this. DL ended up assisting with half of the skillet and 3 half slices of toast. Yeah that's right, it comes with toast. Cheekily, Passek's enormous Ultimate Skillet includes two slices of toast too...as though it's an inside joke among the Café staff.
Two, Two, Two Breakfast ($8.95)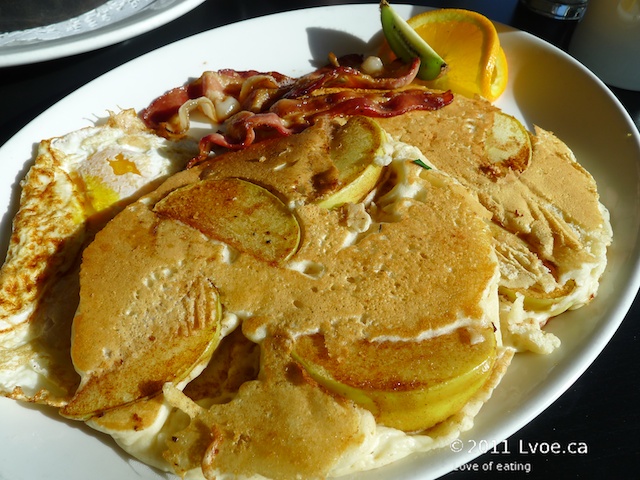 You can choose what twos you like. DL chose two apple cinnamon pancakes, two eggs, and two bacon strips. The apples in the pancake are freshly sliced and crisp, nice texture contrast. DL notes that the flavours are very clean; you can clearly taste the three components of apple, cinnamon and cake. The eggs are perfectly over easy. Passek's is another eatery I've come across that uses beautiful golden yolked eggs. In past posts I have mentioned that bacon is a very personal thing. Everyone has their own idea of what ideal bacon should be. Passek's does bacon the way I like it. Crispy, but still flexible.
Service is genuine and efficient. Our server helped both of us decide on the best breakfast to suit our needs this morning, and I quickly felt at ease trusting her suggestions. Also, you will never see the bottom of your coffee cup. What a great find. It is clear that Passek's Café cares about their food. No frozen hash browns or fluorescent yellow eggs to be had here my friends.
Dear Kamloops,
Why are you not eating breakfast at Passek's Classics Café and Catering?
There is only one other table occupied this morning when we dined. For the same price as the breakfast chains in Kamloops you can get a huge thoughtfully made meal with whole ingredients, and support a local downtown eatery to boot.
Passek's has a good grasp of the lunch crowd during the week, as that is their busiest time slot. But did you know about their breakfast goods?? By the way, that advertised $6.95 brekkie is a steal. If you can't make it in during the morning for a before-business-breakfast then make plans for a sumptuous start to your Saturday morning. You won't need to eat 'til dinner. Trust.

Locations
Passek's Classics Café and Catering
120 Third Avenue
Kamloops
,
BC
V2C3M2
Canada