Anie's Pizza & Bakery - Cache Creek, BC
Now Anie's would be one of those places that would be a DDE to many of you driving through. However, I was informed months ago that it is probably one of the better places to eat in Cache Creek.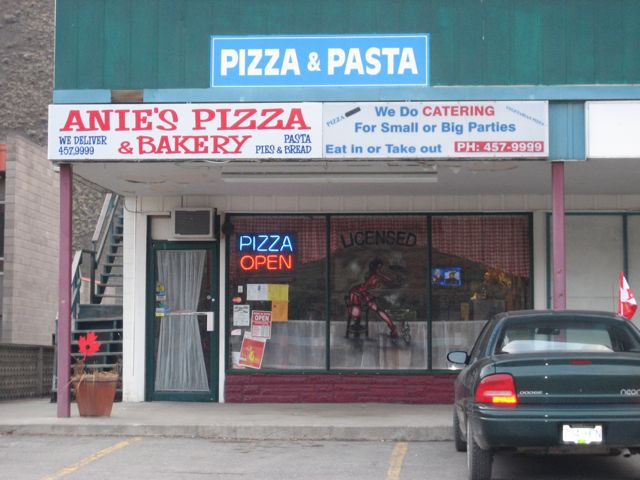 **UPDATE October 2010: Anie's has now MOVED up the highway to a new location. She is now located in the old Bob's Recreational Sales buiding at 1206 Cariboo Highway (across from the Dairy Queen in Cache Creek.)
At Anie's the breads, pizza dough, pies etc are baked from scratch. This is something that a lot of small town places neglect to do. If more small town establishments focused on providing fresh local product instead of trying in vain to recreate dishes you may find in larger venues, we probably would have fewer DDEs strewn along the highway #1.
We decided to try out Anie's for lunch. It was quiet as there was only one other patron in the cafe. (After the lone eater left, it was a lot easier to take flash pictures.)
We started with some garlic toast. ($1.50)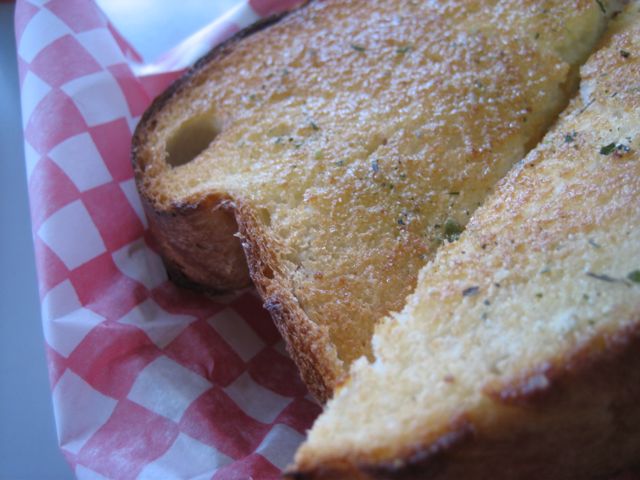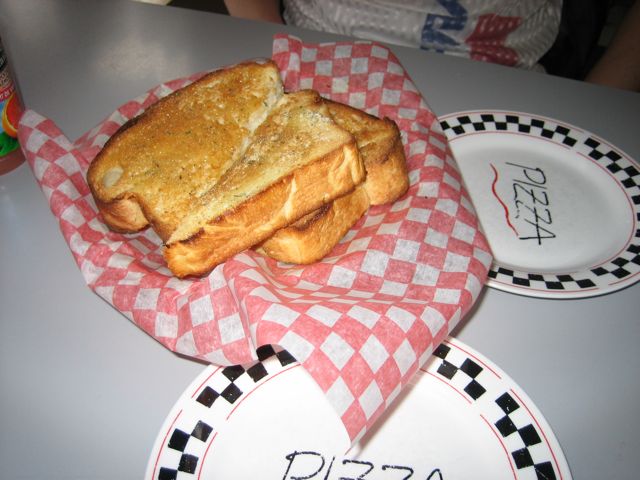 The slices of toast were the size of Hagrid's hands. Huge. They weren't really garlicky, but the toast seemed to have some sort of seasoning to it. Perhaps they are using garlic powder, instead of garlic?
A chicken breast sandwich that was made to order. ($5.95)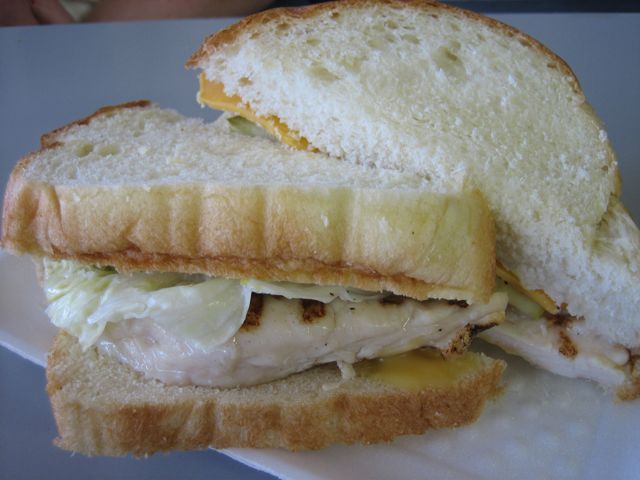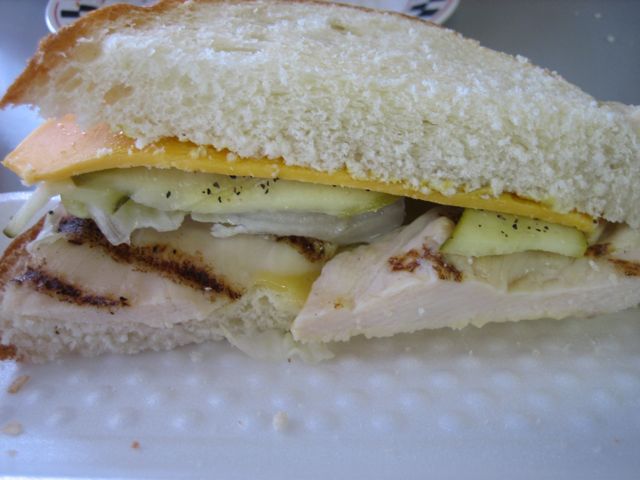 The sandwich was made with freshly baked bread and real ingredients. On this sandwich we chose: chicken breast, honey mayo, hot mustard, cheddar cheese, s&p, butter, dill pickle and lettuce on white bread. It was a good solid sandwich. We thought it would be a nice option if one could choose to have it on a bun. Mind you, that would mean Anie would have to bake the said sandwich buns... If you're having soup and/or sandwich, you had to fill out a sandwich/soup order form located on each table.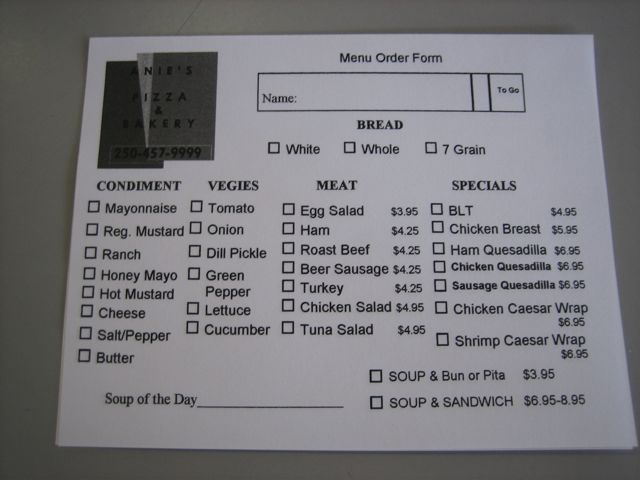 A Chicken Pesto pizza. ($17.95)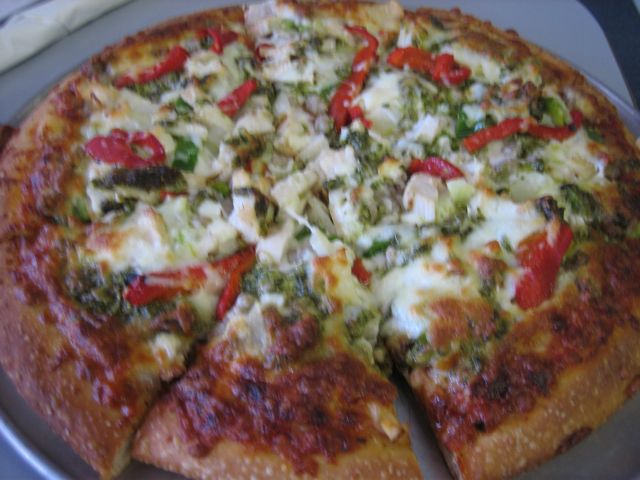 I wanted to share a small 10" pizza but apparently only 12" and 14" were available. Hmm...is this not a bait and switch? Whatever, I ordered the 12" really for the purpose of ordering something that is in the restaurant name.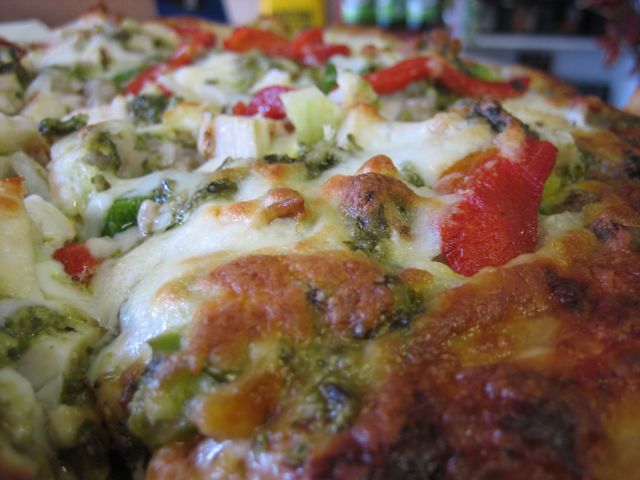 The pizza contained pesto, green peppers, onion, sausage, chicken and roasted peppers. The toppings were indeed fresh. They looked fresh and tasted fresh. Here's something interesting, the pizza in general was somewhat bland, or extremely mild in flavour when we ate it fresh from the oven at the restaurant. However, when eaten the next day, the pizza was surprisingly delicious! It's like the flavours had a chance to get to know each other or something. Very tasty the next day.
According to the menu, you have a choice between thin and regular crust, we didn't specify what kind of crust we wanted, nor did our server ask our preference. By default, we were given the regular crust.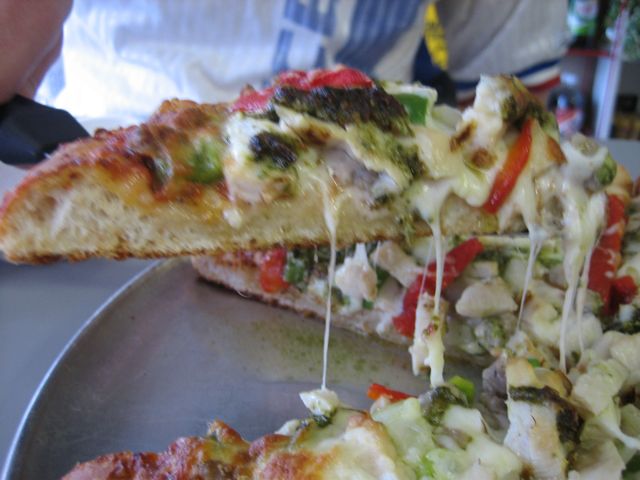 The crust was like a Pizza Hut crust, but without the grease. It was chewy and pouffy. It was an honest homemade crust. The components of the pizza (dough, toppings) were decent and fresh so I would give Anie's another try in the future.
This restaurant is located in a derelict stretch of strip mall in Cache Creek.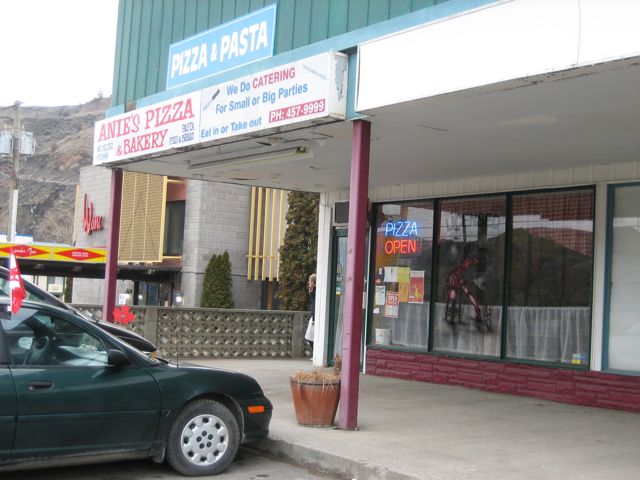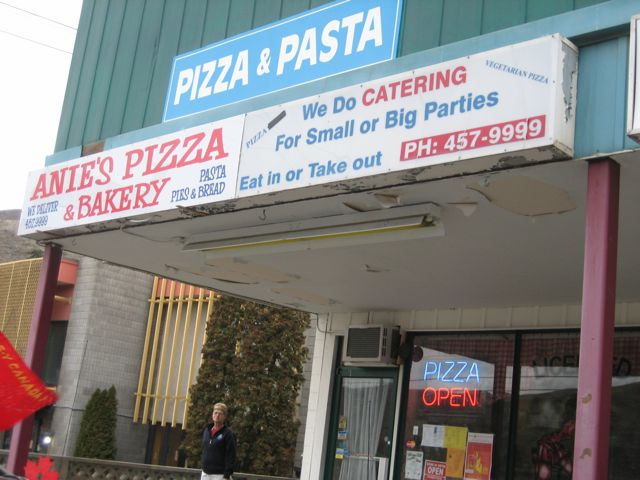 In speaking with the owner, she has plans to move her business to another space. From the outside Anie's would fit the DDE description, but there is a lot of care that goes into her food. The menu is small. Basically it's just soup, sandwiches and pizza.
The decor is wildly eclectic!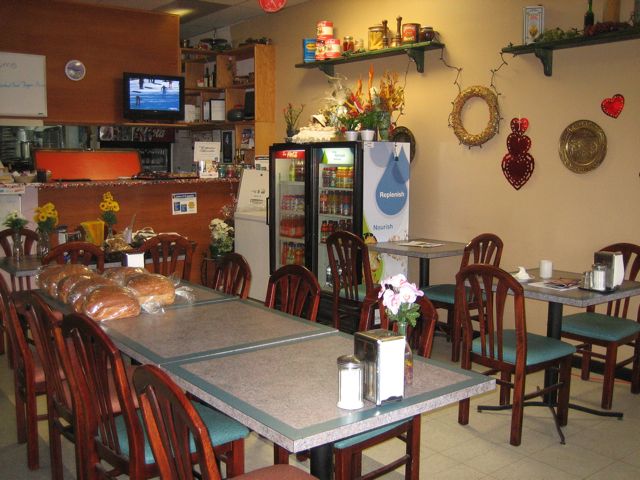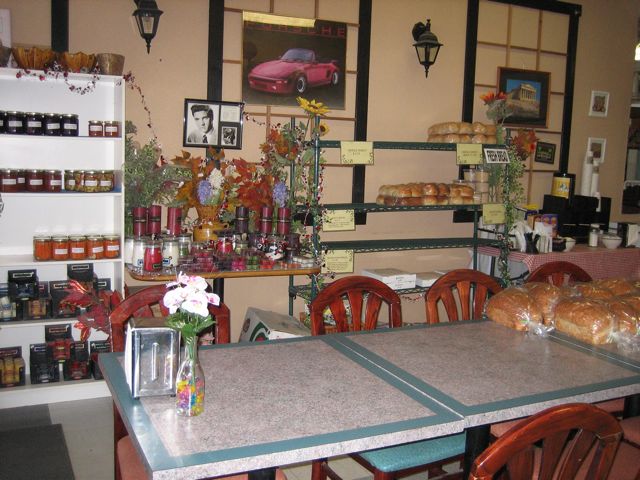 Christmas lights mingle with Valentine's day decor, some outside lamp lights adorn one of the walls with a framed Porche poster, and young Elvis in between them. Hilarious. The menu as you can see below is modestly priced. Our lunch came to $27.14.
Anie's also sells homemade preserves and pickles. On this particular day her shelves included pickled carrots, pickled garlic, and peach jam.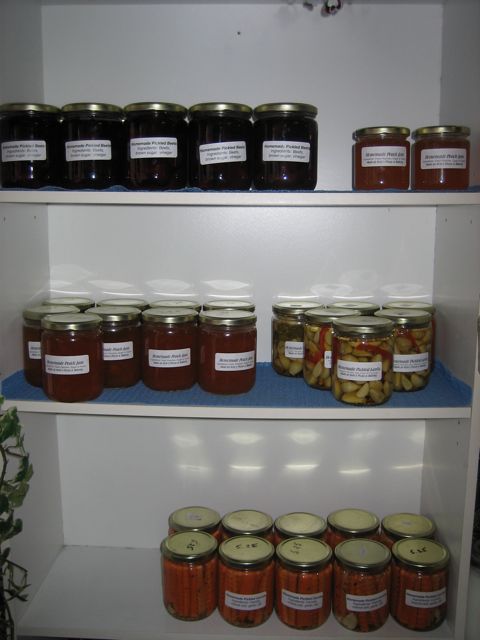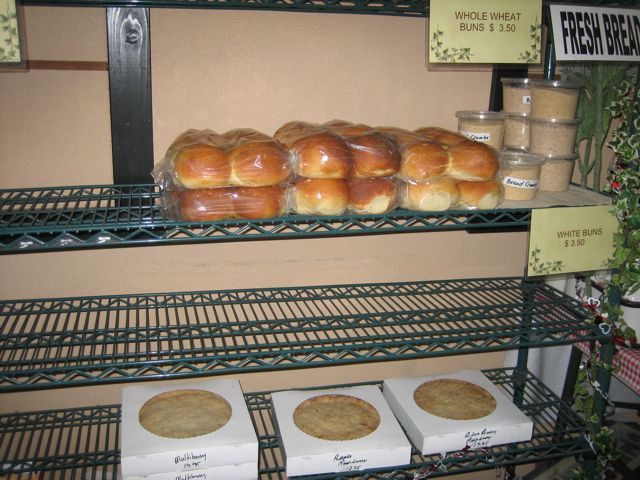 You can also buy her bread by the loaf, and buns by the dozen. Oh, and if you happen to need some scented candles... she sells those too.
Anie is also known for her sticky buns. There were none available this afternoon but she sold us a "take and bake" version of her buns. ($3.50 for 2 unbaked)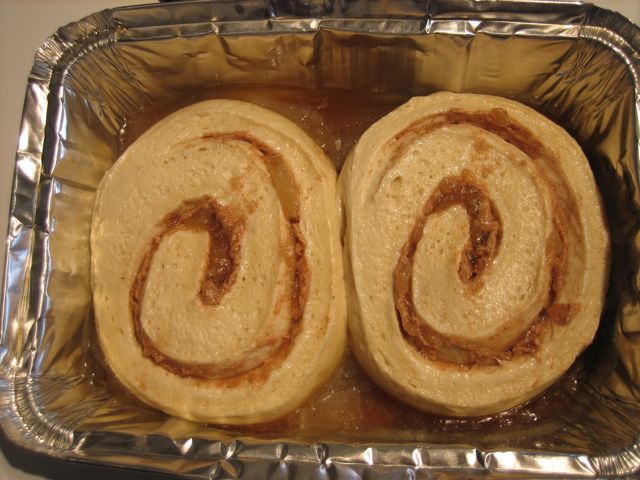 We just had to stick them in the oven. (Separate blog about the sticky buns here.)
Anie's is a place a lot of the locals frequent. If you are finding yourself hungry on the Trans Canada, give Anie's a try. I know it's less "risky" to just go to one of the fast food places in Cache Creek, but Anie's food is better quality (as in healthy) than any of those chains.
Locations
Anie's Pizza & Bakery
1206 Cariboo Highway 97
(Across from the Dairy Queen)
Cache Creek
,
BC
V0K 1H0
Canada