Bistro 326 - Kamloops, BC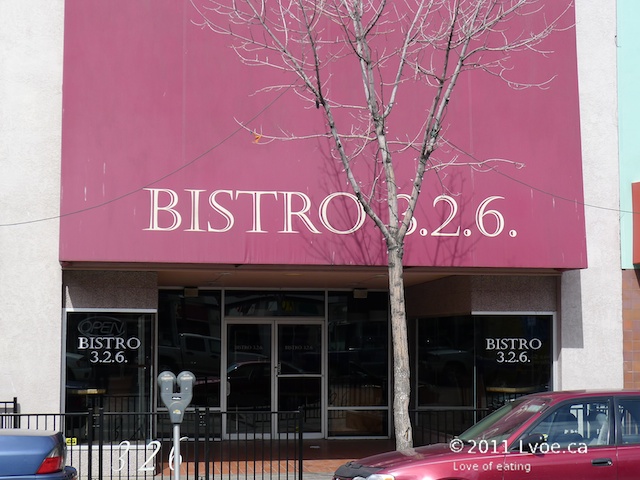 **Update July 2011: Bistro 326 is now closed. Terra Restaurant now occupies this space.**
Bistro 326 is a casual dining space located in downtown Kamloops on Victoria Street. The bistro has a small front patio area which I'm sure will be popular when the warmer Kamloops weather finds us.
This evening there is a young couple dining with their small frou-frou dog with that generic buzz cut. Undeterred by the chilly weather, the threesome descends upon one of the outside patio tables. Wow, good on them. Such dedicated pet owners. It is freakishly windy tonight. Kamloops hasn't had the warmest start to Spring this year. Brrr...I hope they order soup.
Duck Confit ($15.00)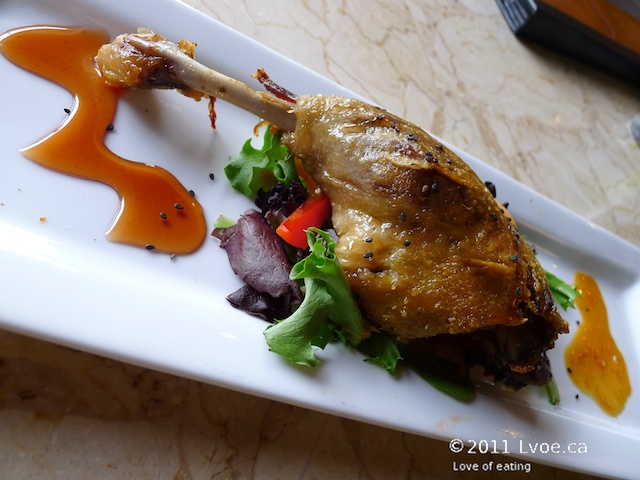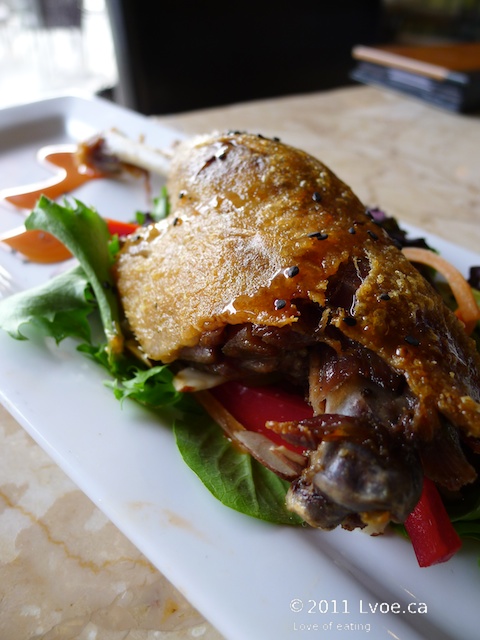 I've said this before, and I'll say it again. Anything cooked low n' slow enveloped in its own fat has gots to be good. Duck is one of my favourite things to eat. It's difficult for me not to order the bird when I see it on a menu. Bistro's confit is very respectable. The duck meat is that fall-off-bone type of tender, and they crisped up the skin nicely too. At times the cured meat can get a wee salty, but I alternate the bites of confit with its greens and with the perogies below. All is well in cured meat-land.
Perogies with Bacon ($13.50)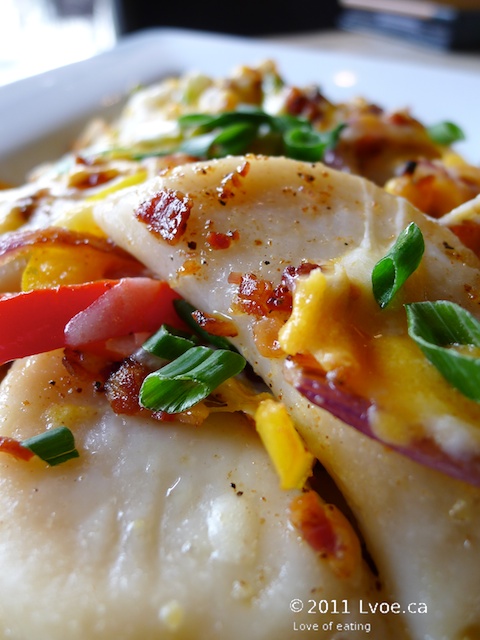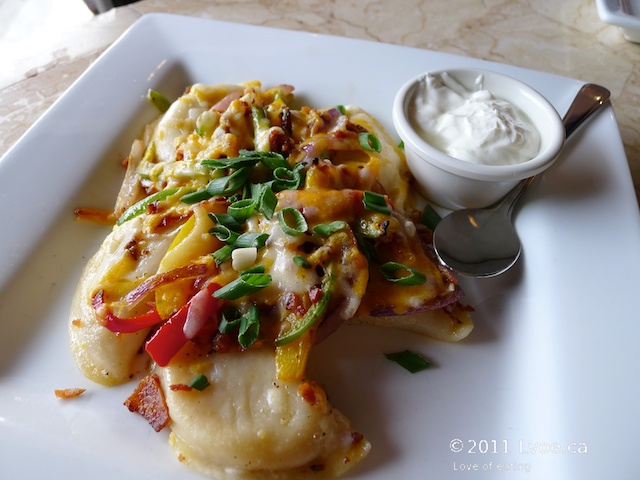 These are similar to what DL's granny makes. Bistro 326's perogies are filled with smooth cheesy potatoes with a side of sour cream. I order them "smothered in bacon" because I cannot imagine potato dumplings any other way. The bacon pieces perk up the potato pockets perfectly with a smoky punch. The perogy dough is not too thick with a bit of resistance and chew. Straight forward and good.
Tangerine and Lime Sorbet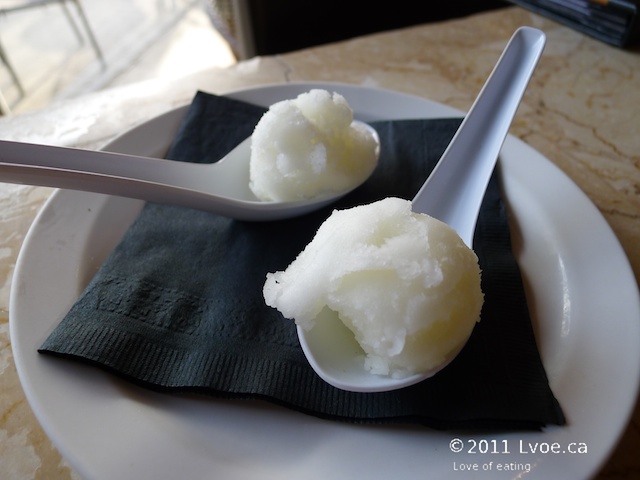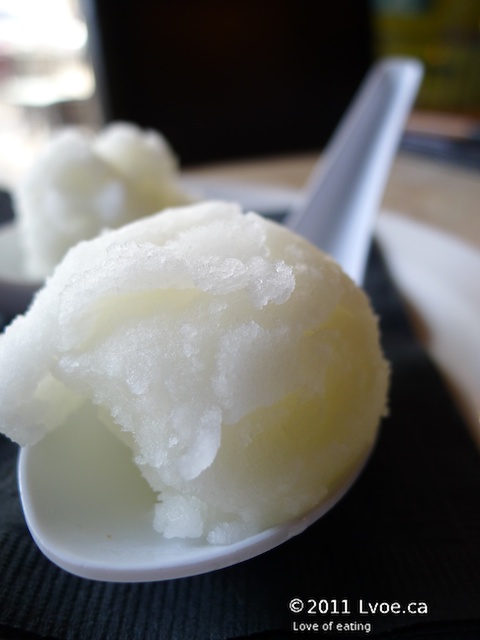 Between the first course and mains Bistro 326 thoughtfully offers their guests a house made sorbet to cleanse the palate. Its icy coolness washes away remnants of canard and bacon. I'm ready for the mains.
Steak au Poivre ($38.00)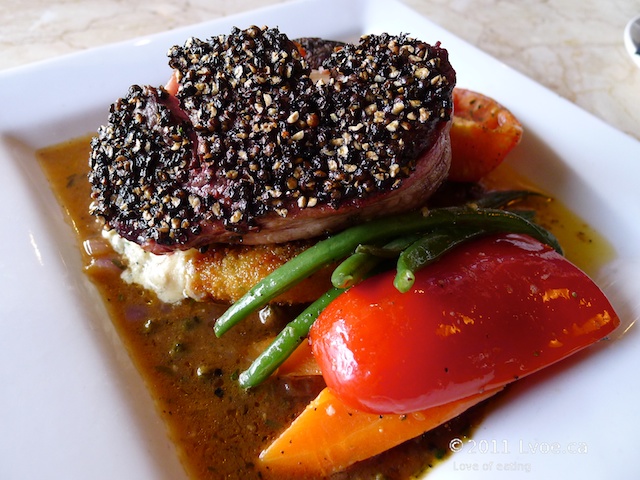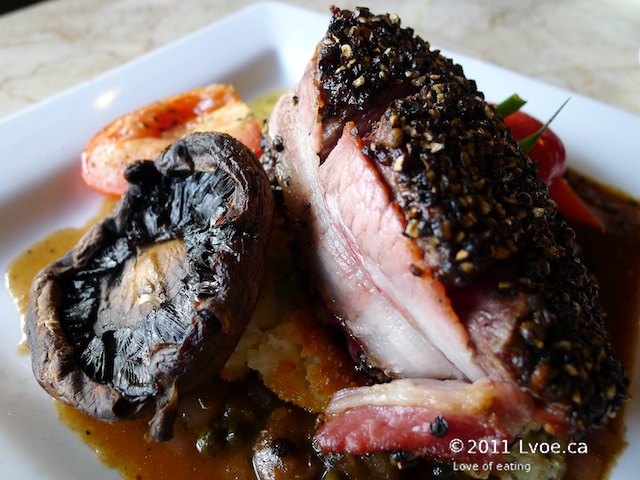 I am contemplating whether to have the ribs or steak. Our server begins to tell me about how their steak au poivre is specially prepared. Apparently it never touches a pan or grill. I wish I could relay this exclusive Bistro 326 cooking technique to you, but after my ears hear, "...wrapped in bacon..." In that instant, my aural attention became non-existent as my energies went into visualizing my soon-to-come rasher wrapped meal.
I went with the eight ounce steak, in retrospect the six ounce would've been plenty. I didn't realize the vegetable sides would be so abundant. Love the meaty mushroom.
Look at that pepper crust! The steak is thick and tender with loads of peppery crunch. Bacon surrounds this juicy slab because, as we all know, fatty salted meats make everything better.
Although I enjoyed the Steak au Poivre very much, I did have a beef about my beef. I ordered my steak rare. It came out medium, with some medium rare-ish bits in the middle. It wasn't a big deal because I'm fairly forgiving with steak-doneness as long as it's not well-done. However, knowing how to cook a steak to the ordered doneness is pretty much Line Cook 101, no? The mains are huge and I pro-actively set aside half of my meal so I could accommodate dessert later.
Chefs Cut: Braised Beef Shanks ($26.00)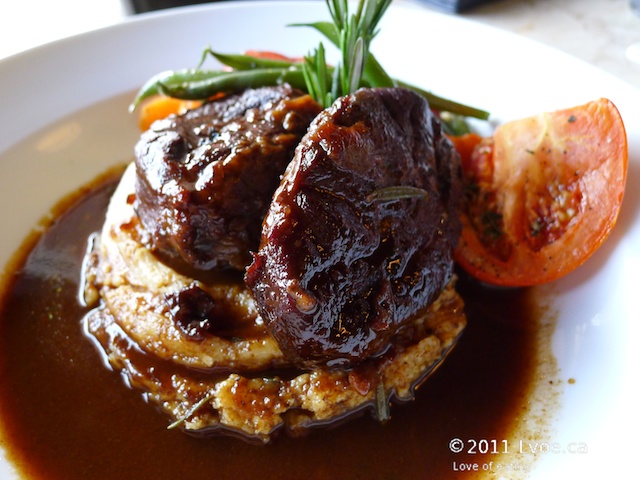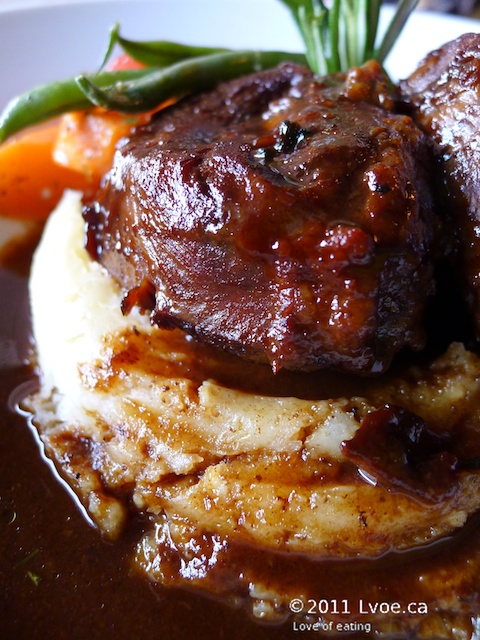 The aromatic and beefy shanks are so moist and tender I didn't need a knife. The side veggies are green beans with a snap and tomatoes with a smush. Anything braised reminds me of humble home cooked food. Very nice.
Baked Alaska ($8.00)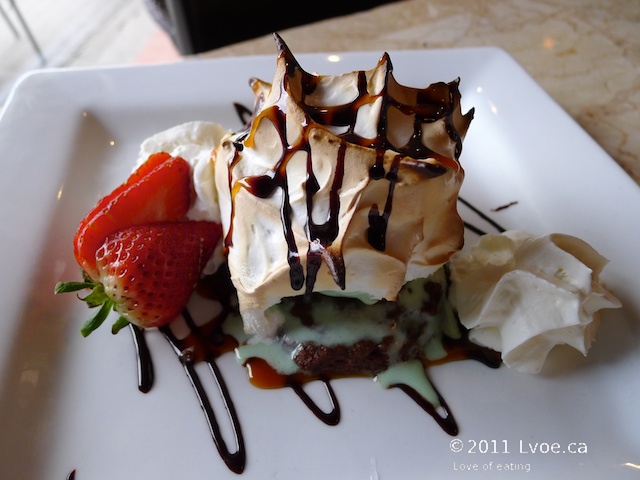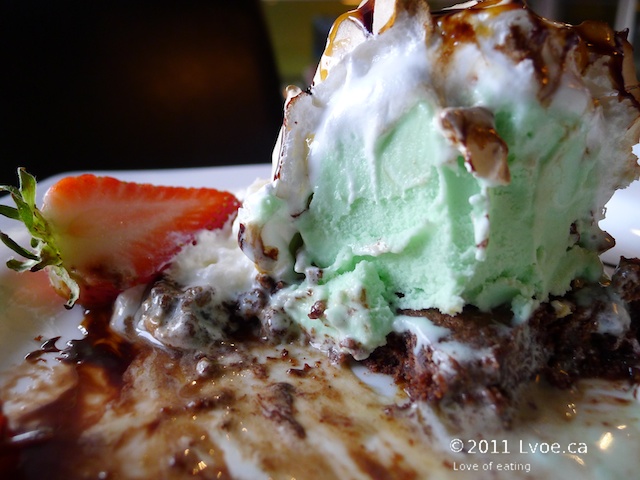 Enormous. The soft-ball sized scoop of pistachio ice cream sits on a thin sweet brownie. The green ice cream could have been a little softer but it packs a pistachio pow. I haven't had pistachio ice cream in years. I love the wookiee meringue!
Crème BrûléeTrio ($7.00)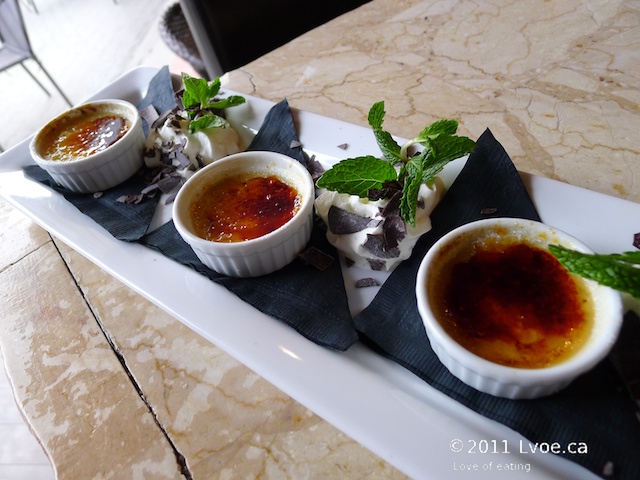 I must order crème brûlée. Luckily, Bisto 326 serves this as a trio so I didn't have to choose among flavours. Frangelico, espresso and Baileys rounds out the triplet of tonight's crème brûlée. The espresso, in the middle, has the sharpest flavour. I couldn't really taste much of the hazelnut or Irish crème in the other two. This may be due to Baked Alaska overload, who knows. The custard is smooth in my mouth but looked "bumpy" on the spoon. The all important crackly top on the burnt cream is an eye pleasing caramel brown. Treat a friend and share a dessert between the two of you, because the portions are insanely large.
It would be difficult to leave Bistro 326 hungry. All three tasty courses are ample in serving size. Bistro 326 keeps a compact dinner menu. At this time, they offer the same menu items as they did last fall, I'm not sure if they change it up for Spring-Summer. I like small menus. It's a quality versus quantity thing. Usually small menus are focused, and only include what a kitchen does best. Isn't this the way it should be?
The couple outside endured the chilly wind this evening like troopers. After several cups of coffee and some bowls of the feature soup, they carry on with the rest of their night. As they leave, Little Fluffy follows happily behind them, blissfully unaware his doting humans just froze their butts off for him.

Locations
Bistro 326
326 Victoria Street
Kamloops
,
BC
V2C 2A5
Canada