Arigato Sushi - Kamloops, BC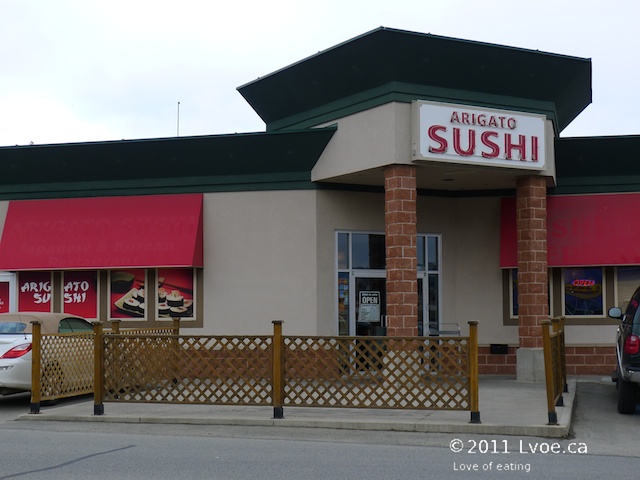 Arigato Sushi. I had to step back from this particular entry for a breather and gather my chi before writing this. If you have been reading this food blog since the beginning, you may recall that I have some aversions to eating fish and other seafoods so far away from well, the sea. I know, it's kinda silly, but that's what I'm working on.
I am running a number of errands today and my estimated time of completion was slated to be early evening. I planned to go to Sanbiki, as I have eaten there a number of times since my move, but recently realized I've never included them on Love of Eating. Weird. I end up finishing my tasks much earlier, so Sanbiki Japanese Kitchen is not an option. I guess I really wanted to have sushi because I decided to try OYA Japanese Restaurant next. OYA is packed with people waiting in line. Um, no. I'm not waiting.
Ultimately, I settle with trying Arigato Sushi in the Kamloops area known as Aberdeen.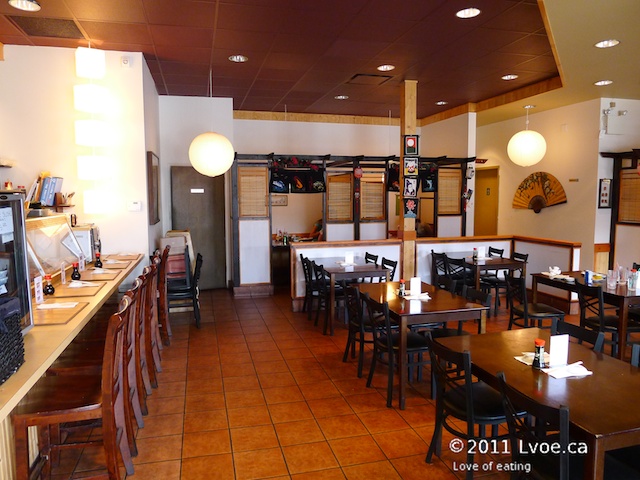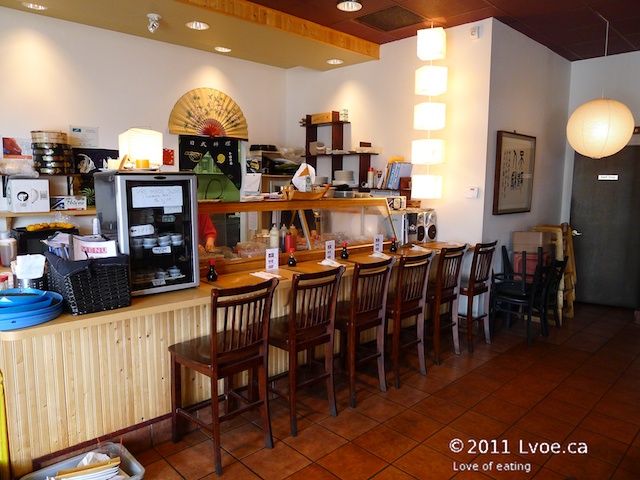 The room is nearly empty, but the first thing that I notice is the smell. It's not that familiar "sushi bar/vinegar" smell, it's more like a mix between rancid fruit and stir fry. It's hard to explain. It's also a bit humid inside the restaurant. So there's that. This doesn't necessarily turn me off because I'm completely okay with DDEs as long as the food is good. The menus are sticky and the stand up placard on the table has vintage splashes of unidentified sauce from who knows when. Not a problem. I can look past this, if the food is good. All dirty dishes are bused and left in trays located, in full view of the dining room, on the floor next to the sushi bar stools. Hmm..who knows, this may be an efficient way of keeping tables clear? I raise a high arching eyebrow, but I'm not deterred, if the food is good.
Tuna and Salmon Sashimi ($13.95)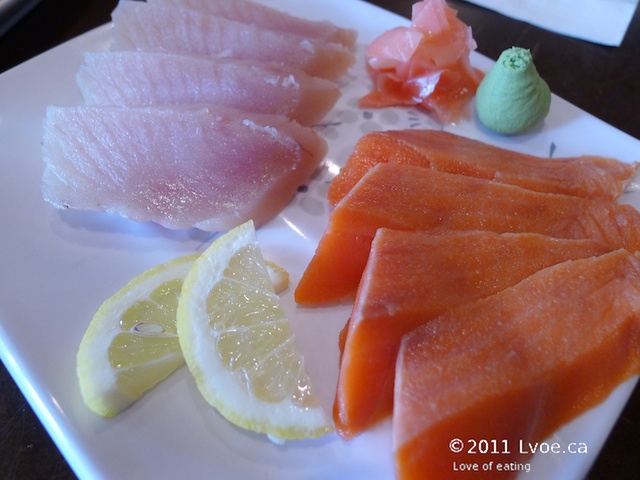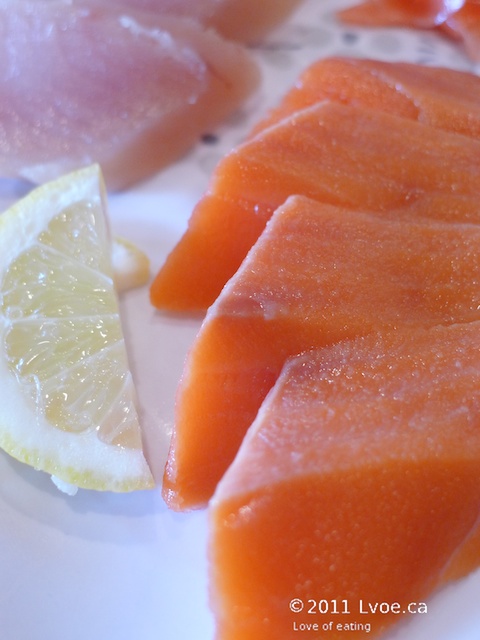 I am shocked at the colours of both fish. It's arguably brown. The sockeye did not have that distinctive sockeye taste to it. To say the very least both did not taste fresh, texture lacked a firmness, and it had that freezer smell to it. I'm not sure if you can see from the photos, but there's a white-ish film on it. Please tell me this is not the break down of fish oils from poor handling and not-cold-enough freezing. I'm not going to on and on, but I will include a comparison picture, below, of sashimi from another restaurant.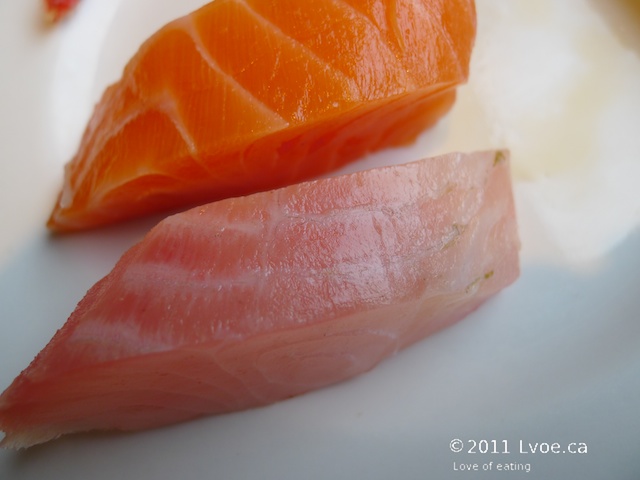 I know the fish types are not the same but it shows definitively the "look" of bright and fresh versus murky, dull and not-so fresh sashimi. You be the judge.
Idaho Roll ($5.95)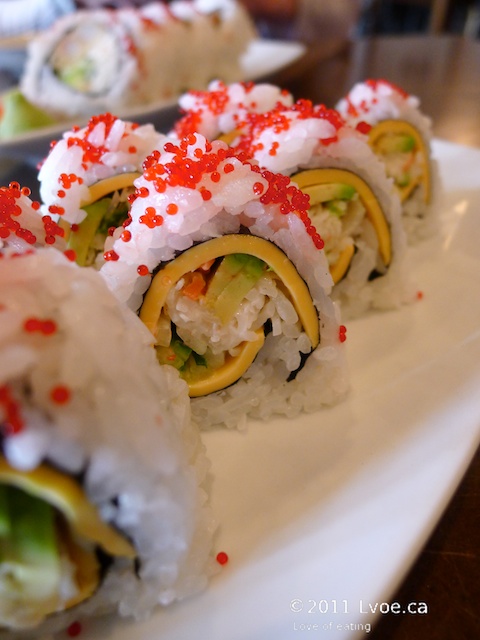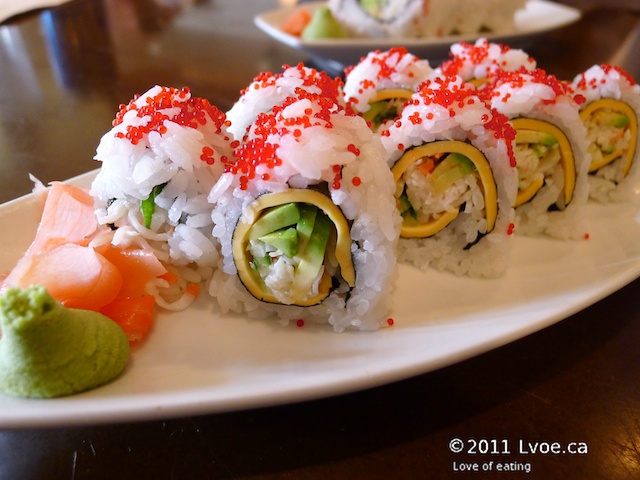 I really like the cheekiness of the Idaho Roll. I take it as saying, "hey, let's not take ourselves too seriously. Yeah, roll that process cheese!" Cucumber, avocado and imitation crab with processed cheese. The pseudo cheese is a little overwhelming in that fake cheese flavour, but that is to be expected. Truth be told, I've never been a fan of process cheese. But I love process cheese melted on a hamburger. Not so much in maki.
Spider Roll ($9.95)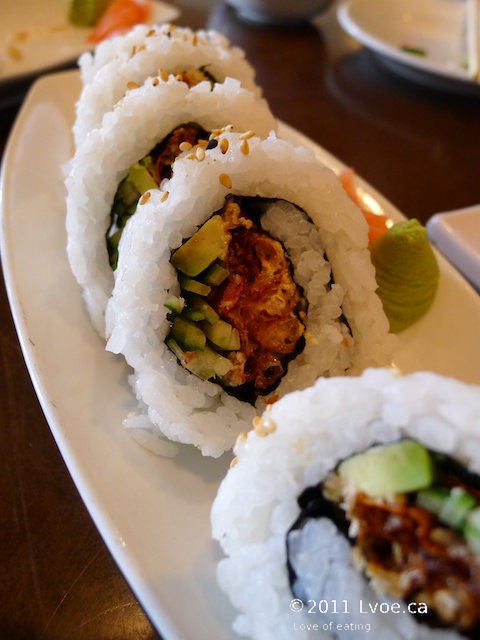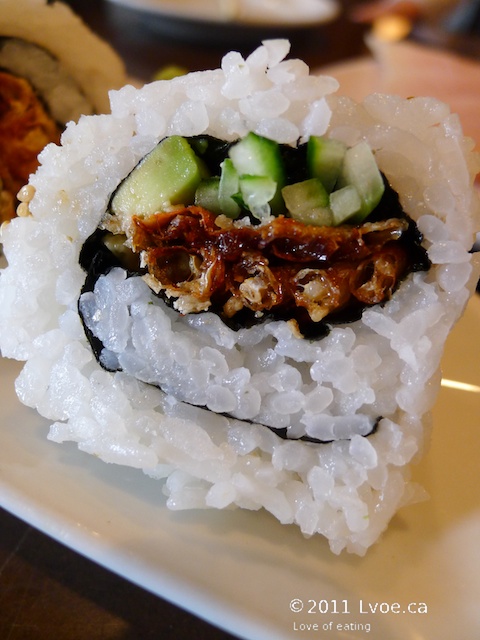 Cucumber, avocado and deep fried soft shell crab. Crunchy like any tempura roll. But not much flavour is apparent. My biggest gripe about all these rolls has to be the rice. The rice is on the verge of mushy, and there is nary a hint of seasoned vinegar. The real kicker is the copious amount of rice used in these rolls.
"Let them eat rice."
This is a classic strategy in lesser sushi establishments, and standard practice at AYCE places to fill your belly up. Look at the amount of rice in this piece. It's more than 50% rice! Shameful. Curiously, does Arigato Sushi offer an "all you can eat" menu?
Dynamite Roll ($5.95)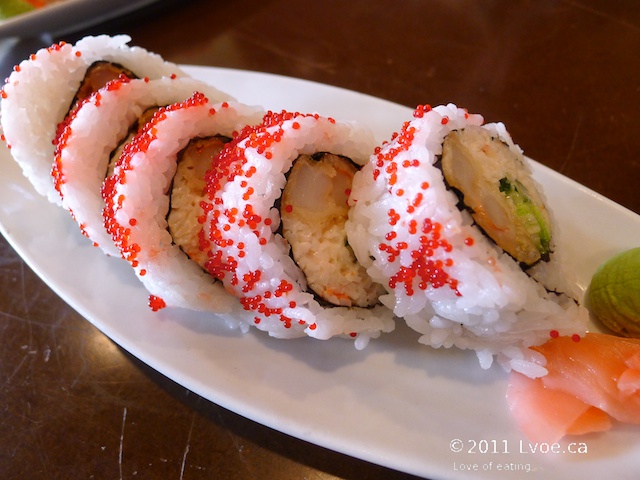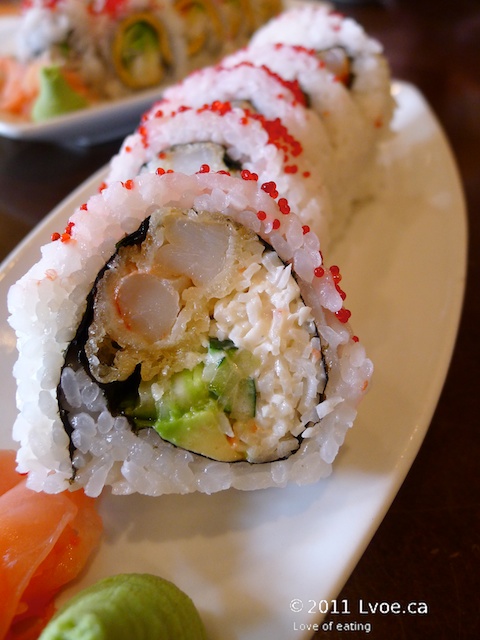 Cucumber, avocado, tempura prawn. Flavours are typical but the rice is killing it. Murder! The rice issue is making this dynamite fizzle more like Pop Rocks.
Tempura roll ($9.50)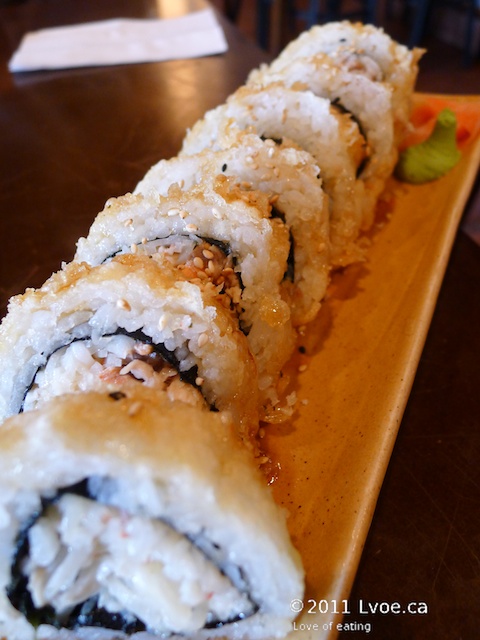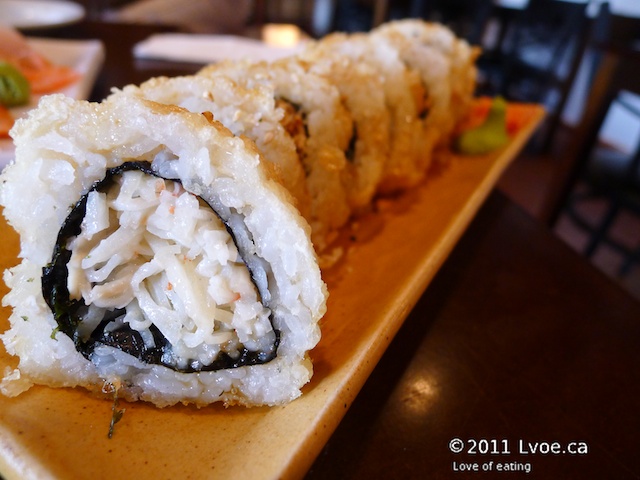 Salmon,imitation crab and do I recall...chicken? I like the idea and flavours of this combination meat roll, but again...the rice. Another issue I found with the rolls,in general, is the "looseness." The maki, even the small ones, aren't mindfully rolled so many pieces just fell apart before they made it to my mouth.
Toro Nigiri ($2.95 each)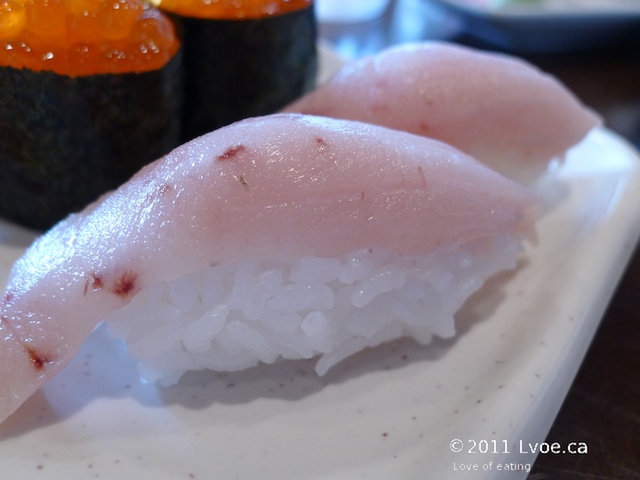 Now, I wasn't expecting greatness here. But I am still caught off guard by the looks of these nigiri. This shouldn't be classified as tuna belly. It had a tuna taste to it, but not a toro taste. Arigato's choice in serving blood vein spotted tuna belly boggles my mind, but to each their own.
Ikura Nigiri ($2.50 each)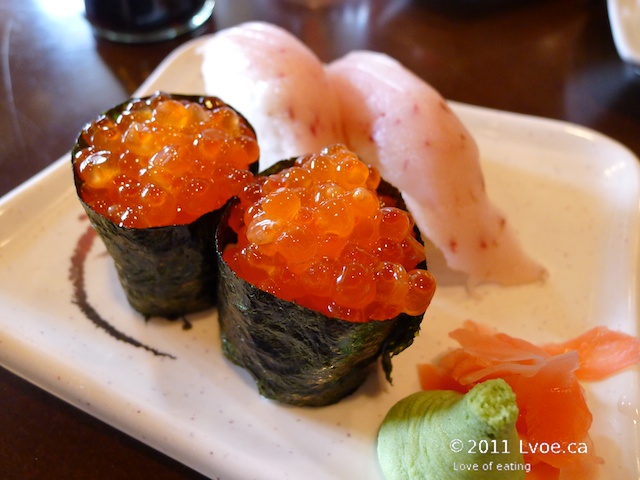 The ikura has a slight cloudy appearance that had me giving it the side-eye with a bit of a giggle.
Why the giggle? Because by the time the nigiri arrives, this entire meal became a Benny Hill comedy. One gag after another. (Insert: hi-hat, snare combination.)
I know I won't be giggling later, when I come to terms with the fact that I have to pay for this spread of dread. But hey, if I can't laugh about this, then that would be really miserable.
You may wonder how or why I even attempted to ingest these items. Well, shortly after my introductory moments at Arigato Sushi, my internal genetic-judgyness-alarm informed me to take a few of my *little-pink friends before our food came. I felt invincible!
*Like I said, I'm completely okay when DDEs, but I'm no fool.
I am a bit concerned that there is more than one location of Arigato Sushi.
Please Kamloops, stop the insanity!

Locations
Arigato Sushi Ltd.
70-1395 Hillside Drive
Kamloops
,
BC
V2E 2R7
Canada