Sorriso Ristorante Deli and Pasta - Kamloops, BC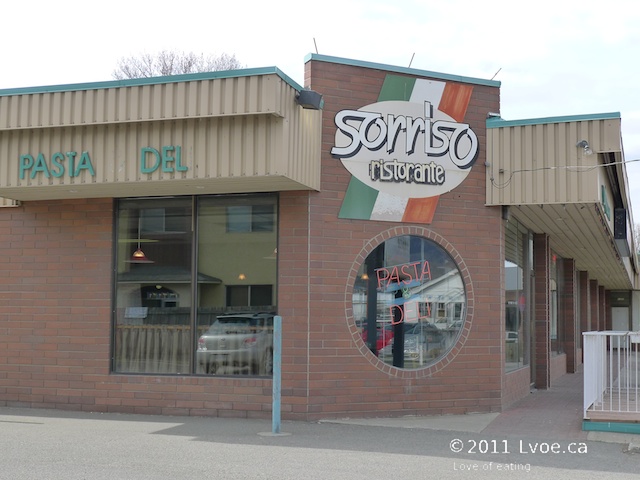 Sorriso Ristorante Pasta and Deli sits on an unassuming corner location on Tranquille Road on Kamloops north shore. I noticed this eatery some time ago when I was orientating myself to Kamloops. Since then, I've driven by numerous times on my way to the "The Craziest Store in Town!" I felt like a deli sandwich today so I swung into the quiet, but ample, parking lot of Sorriso Ristorante.
You see, due to my Judgie McJudgerson nature, I am quick to assume a place called a deli just served cold cut sandwiches. Hoagies perhaps? Slowly but surely, that's how Sorriso Ristorante developed in my mind with each pass-by I made, on my way to peruse the randomness at Herbie's. "Oh yeah, there's that sandwich place..." Having never set foot in Sorriso's, I had already deemed it a "sandwich place" in my head. I'm not sure why this happens in my brain with some establishments, but not others...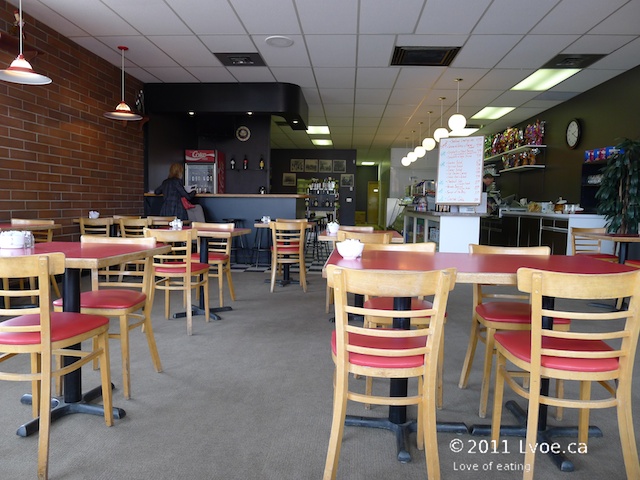 Sorriso Ristorante Pasta and Deli is not just a sandwich shop. It's a sit-down restaurant, with a deli, and a small grocery section specializing in imported European, mostly Italian, goods. This makes me very excited. (Yes, of course I checked for Maltextrakt. Nay, by the way.)
Many years ago, I lived and worked in a small northern Italian city just outside of Milano. I shared a home with a family in Cologno Monzese that was crazy passionate about food. The family's rural farming roots are originally southern Italian, so my home became the best of both Italian food worlds. From the rich saucy tomato goodness of the south to the lighter cured meats with bread of the north. We'd often reap the benefits of the two habitually hard working grandparents down south. The household was regularly gifted with homemade sauces and cured meats from home-grown veggies and home-bred animals from Nonna and Nonno. These two elderly Clydesdales routinely made their own olive oil. What?? Yes, olive oil!! I know some of this is due to necessity, but they truly know how to live well, via food, over there yonder...
Seafood Conchiglioni ($9.95)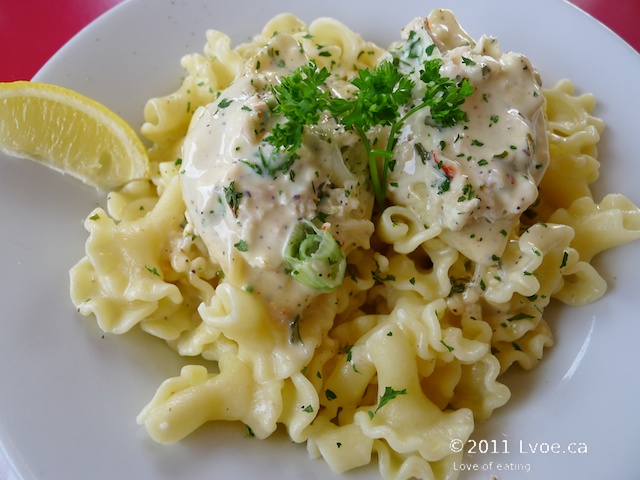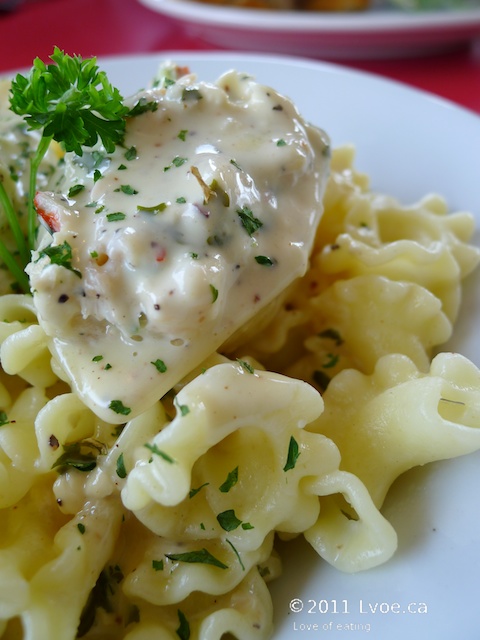 I am just expecting a deli counter. Sorriso Ristorante is much larger inside than I anticipated. I read the white board menu and I am immediately derailed from my plans to have a sandwich.
I decide to order the first item on the menu, the seafood pasta. Not knowing what to expect, I prepare myself for the worst. (Yes, I'm still having some issues about eating seafood so far inland...but can I at least get a booyah for ordering it?) I know it's not the right thing to do but remember I'm Judgie McJudgerson.
Atop of a bed of campanelle-looking pasta, the two conch shells are filled with a creamy shredded crab stuffing. I can't comment too much about the seafood as it seemed to be there just for texture. I'm relieved to find no "seafoody" taste or smell. The pasta is very pleasingly prepared with a bit of bounce and chew. The cream sauce is smooth and mildly seasoned. I like that there is not too much sauce. It's important to me to be able to taste and see the pasta. I like the portion size too. Pasta is not exactly a high overhead item so some places will pile on the noodle to fill you up. The portion at Sorriso's is enough to satisfy comfortably, without going over the top. I am happily surprised.
Meatball Sub ($8.95)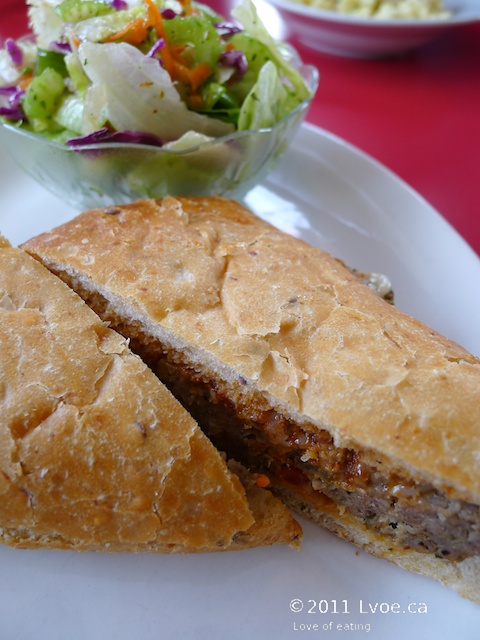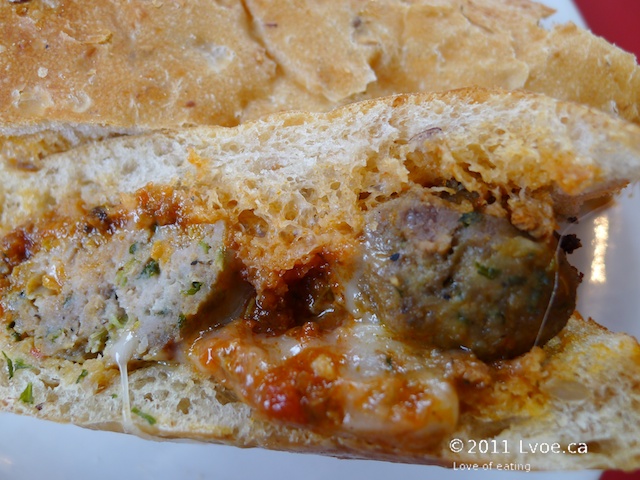 DL goes for the Meatball Sub. We are informed there are no submarine buns left, but they can make it on Ciabatta. No problem. It's not the most photogenic sandwich, but the taste is super. The texture of the meat is preserved nicely in this ball. It didn't have that too-much-filler-meat-loafy texture, y'know what I'm sayin'? The sauce and meat have sharp flavours, so not much is needed to get the taste across. Them balls are good.
It's not often I order meatball sandwiches. Maybe this is because, for a number of years now, I've been exposed to the unfortunate true story of: The $800 Meatball Sub as told by a certain someone I know. It's not a feel-good fairytale. I won't bore you with two stories in one post; I'll save this gem for another time.
In the deli, among the lovely looking meats, they sell Sorriso's house-made goodies. This includes fresh pastas, meatballs, and various sauces found on their menu. My dear friend, pancetta, lounging in the deli-case is screaming my name but I had to ignore her, for now. This is some of the best looking pancetta I've seen so far in Kamloops. I have just come from Summit Meats, and I still have a few things to pick up next door at Heartland Quality Foods. I need to stick to my list.
After our meal we picked up a couple of items:
House-made Meatballs ($9.10)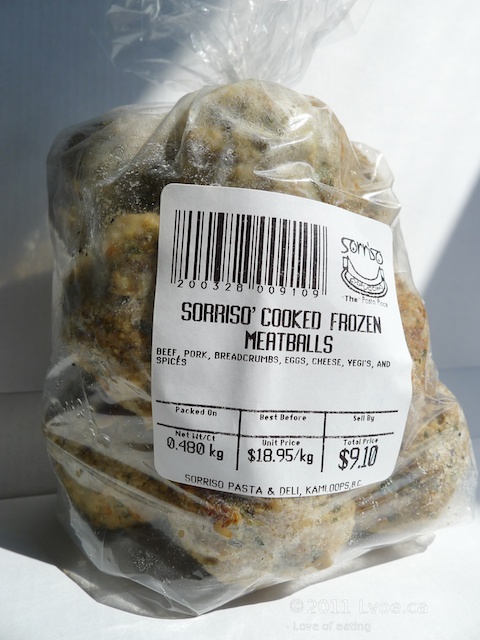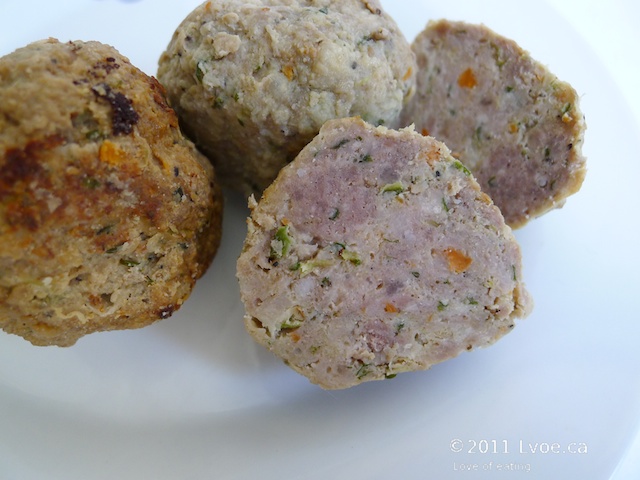 DL loved the meatball sandwich enough to whinge about getting a bag of these orbs, even though they are clearly not on my list. In the coolers you can find little bags of these savoury spheres. I plan to use these perhaps like I would a sausage; halved or quartered in meat sauces or mixed in with other things jambalaya-styles. Have you had these? How do you like to use them at home? Typically in a pasta sauce, or something less obvious?
Anchovies ($9.99)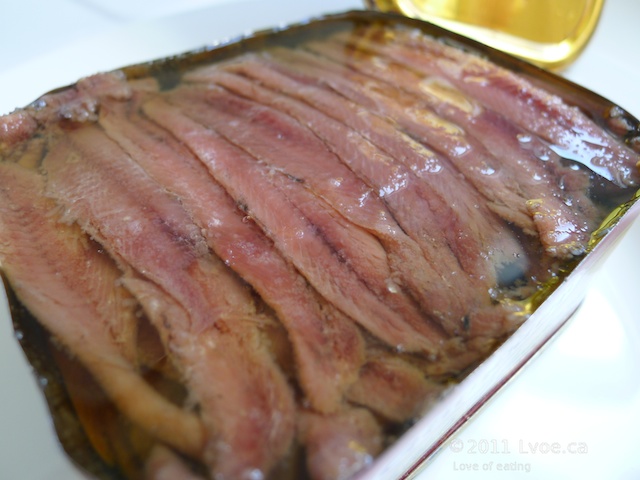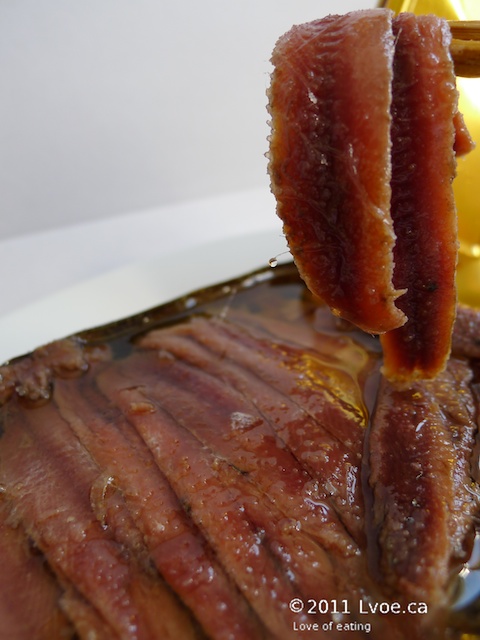 I find imported canned anchovies are so much richer than the North American tins. *Ditto with sardines. I'm not sure if it has to do with differences in processing, but often I find the "canned" fish available in Europe are of superb quality. Even the can goods they export to us aren't as yummy, but still more developed in flavour than what we produce here. We need to pack more things in oil. Agree? By the way, if you are looking for tuna packed in oil, you can find it at Sorisso's.
*Ditto. Who still uses this term? Except Patrick Swayze in Ghost. Don't lie. You remember Ghost.
During my time at Sorriso Ristorante, I spy a number of customers coming in for pick-up orders and for fresh or dried pastas and Sorriso-made pasta sauces. I gather Sorriso's is well known in Kamloops. They seem to have a steady stream of regular clientele especially for their house-made products. I purposely avoided the deli counter as not to be further tempted off my budgeted list, but now I need to go back and make it right with my buddy: pancetta, and the rest of her cured meat friends.

Locations
Sorriso Ristorante Deli
1-177 Tranquille Rd
Kamloops
,
BC
V2B 3E8
Canada