Husky House Restaurant - Cache Creek, BC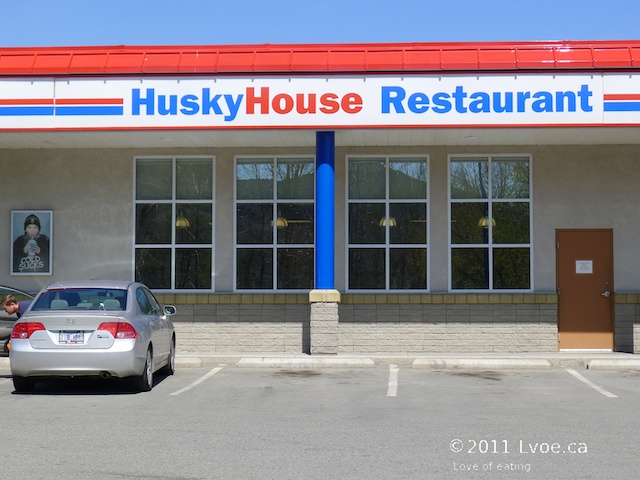 During my travels, there are two Husky Gas Stations that I tend to fuel-up at. One is in Chilliwack and the other is located in Cache Creek. Both these stations have a Husky House Restaurant attached to them. After filling up for $1.45 per litre (gah!) for 91 octane in Cache Creek, we traipsed in for some gas station DDE eats.
It's a truck stop. Or if you like the current euphemisms, it's a Travel Centre. As I pulled into the gas station, there is a super hard working employee sweeping the entire parking lot. It's a huge lot. I'm surprise there is only one person sweeping it; the old fashioned way.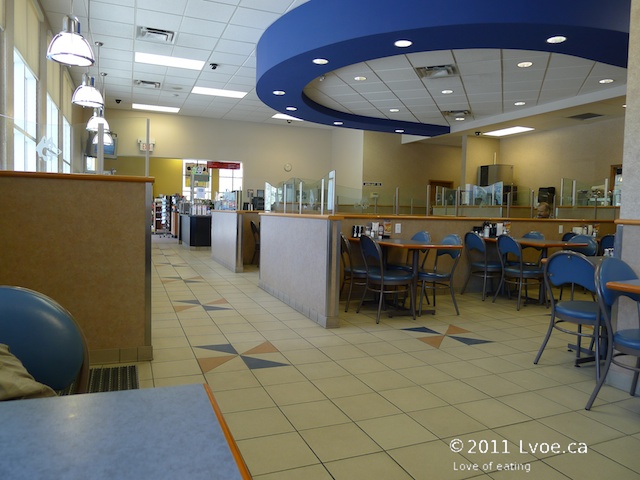 The Husky House Restaurant in Cache Creek is a smidge more modern than the other Husky diners I've peeked into elsewhere. The space is clean. The high ceilings and wall of windows make the dining area bright and airy. My olfactory senses also notice the ventilation is very good in here too. It smells clean.
King of the Road Burger ($11.49)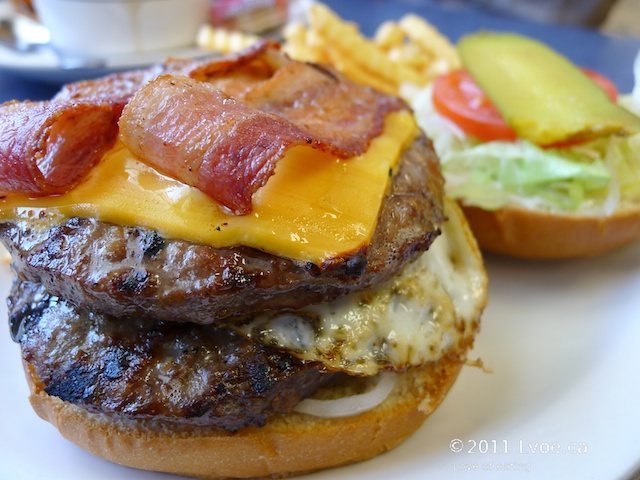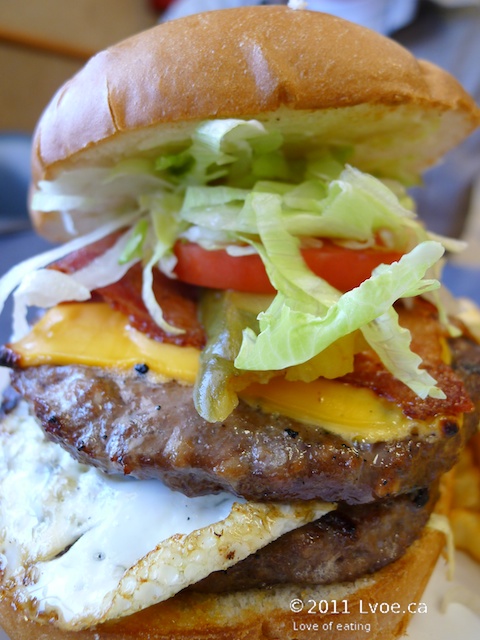 A true monster of a burger. The two thick patties are glistening with juices, and they have that just-off-the-grill feel to it. The meat didn't taste overtly "meaty" but it still had that flamed-grilled-summertime taste to it. The fried egg. How can a soft yolked fried egg be wrong? It's only the greatest accompaniment to any meal, ever! The King of the Road is totally decent for a gas station burger.
The fries are basic McCain-type crinkle fries. I haven't had crinkle fries for eons. Do you remember that 80's McCains commercial, "The strong silent type?" That's what plays in my brain every time I see crinkle-cut spuds.
Spicy Crispy Chicken Burger with soup ($9.49)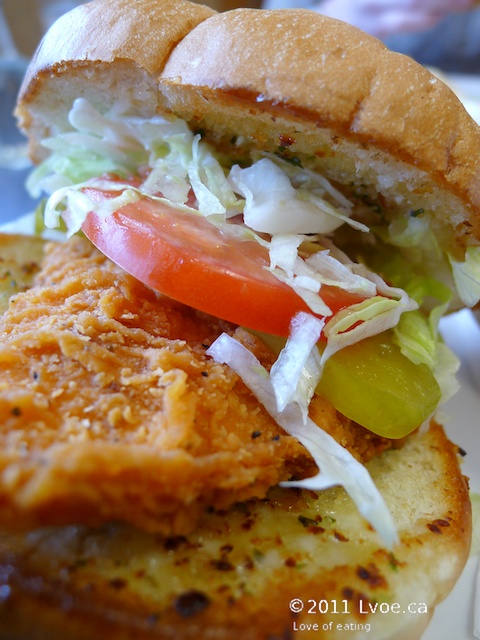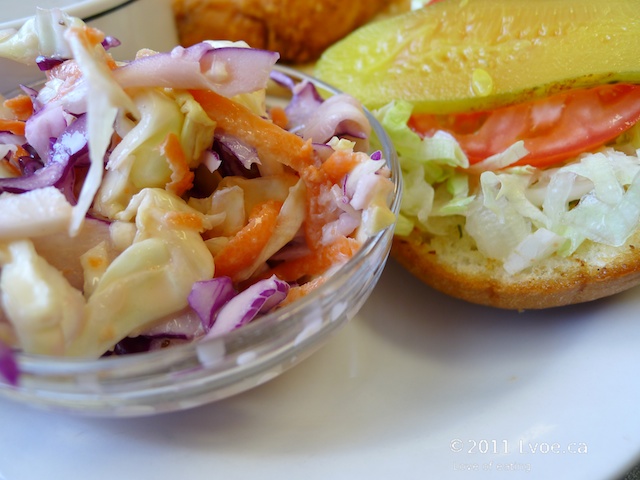 The chicken breast is indeed crispy with a little peppery kick to it. Sorta like a Doritos kick. The bun is a little big for the chicken, but the bread is not as disproportionate as some other burger places in Cache Creek.
Cream of Mushroom Soup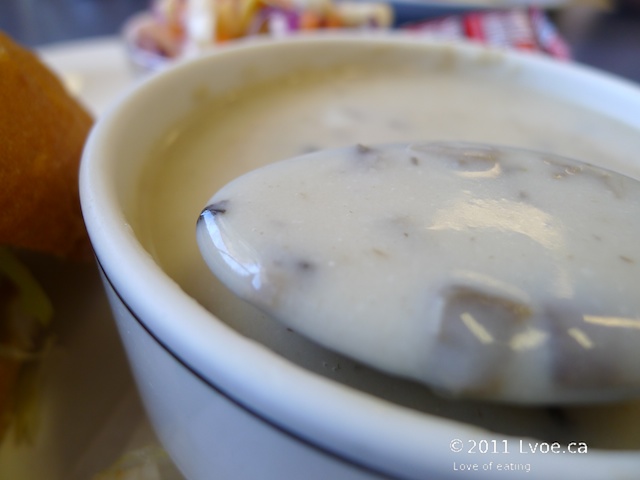 There is a choice of sides: soup, fries, or onion rings. After confirming the soup is home-made I went with the Cream of Mushroom. It's alright. It tastes somewhat like canned but with chunkier mushrooms and minced onions. In between bites and conversation, I peek out the window and all I see are elbows pushing the bristled broom with determination. He hasn't stopped sweeping since before we pulled into the lot.
Apple Crisp ($3.99)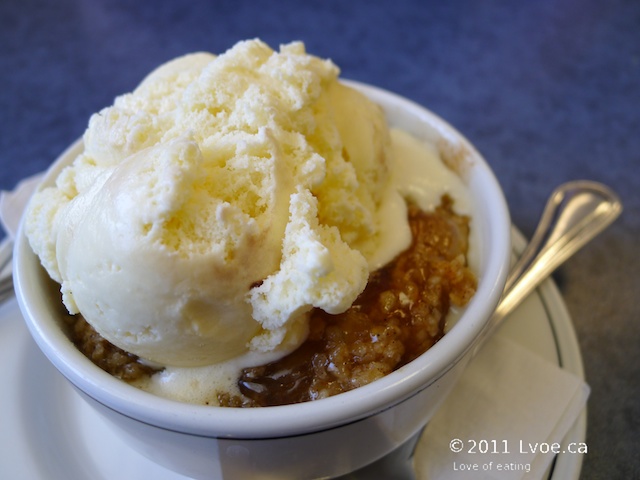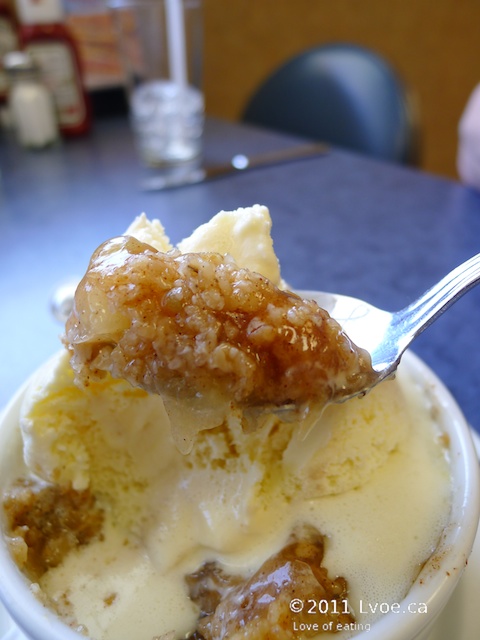 The Husky House apple crisp is served hot with cold vanilla ice cream. I didn't expect to, but I really enjoy this sweet ending. It's a standard apple crisp but it wasn't sickly sweet and the apples still had a bit of firmness to them. The portion is large enough to share after a filling meal.
What truly stood out today at the Husky House Restaurant, is the service. Our server today is fantastic. She is so thorough, so friendly and easy going. I wouldn't hesitate with dropping-in again based on service alone.
The food is straight-up diner food. I know we had some pretty basic entrees, but it's good if you're hungry and need a break from the road. And y'all know how much I love easy accessible parking. Whether you're driving a coupe or a semi, there's always parking at a Gas Station Travel Centre. I had no idea just how large the Husky Gas Station property is, until I caught a glimpse of the truck parking behind the restaurant. And it's clean, of course it's clean, because that guy with the broom was still sweeping when I left the restaurant! Who is this employee of the week?

Locations
Husky House Restaurant
959 Trans Canada Highway
Cache Creek
,
BC
V0K 1H0
Canada