The Empanada Lady - Kamloops, BC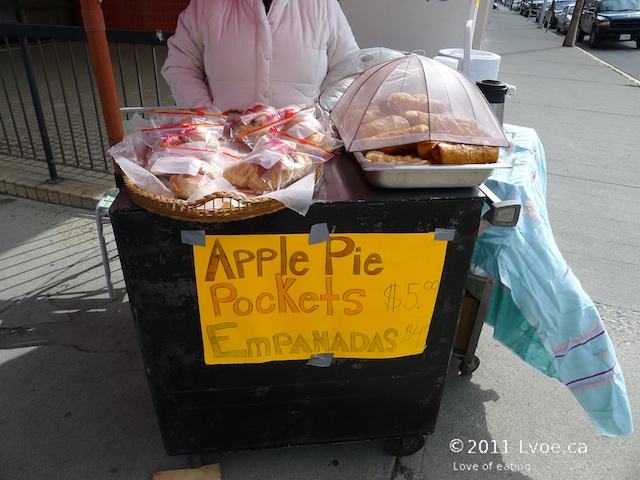 The Empanada Lady sets up during the Saturday Farmers Market 8am to 12 noon or I guess until her supplies sell out. This is a food cart located on the east corner of Third Avenue and Saint Paul Street, just outside of the Farmer Market boundaries. I'm not sure if she is officially part of the Farmers Market proper, or if she just rolls with their schedule. You can find her at the Wednesday Farmers Market too on Victoria Street.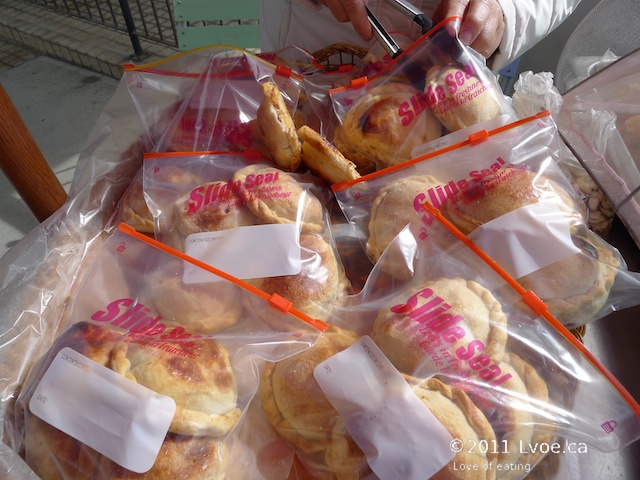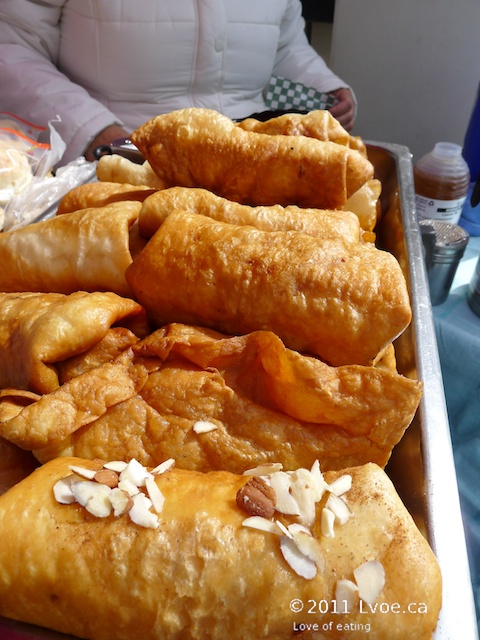 I am walking (quite briskly, I might add) and I hear a clear voice call out: "Empanadas."
Well Alex, the question must be, "What will be in my tummy in 5 minutes."
I turn on my heel to find a friendly face with a body wrapped in a poufy white parka. "Empanadas?" The answer is now a question. I see two metal trays full of sweet goodies.
One tray is full of apple pie pockets and plum pockets. The other is of crispy empanadas. Today there is a choice between strawberries with custard or banana empanadas.
Strawberries with Custard Empanada ($4.00)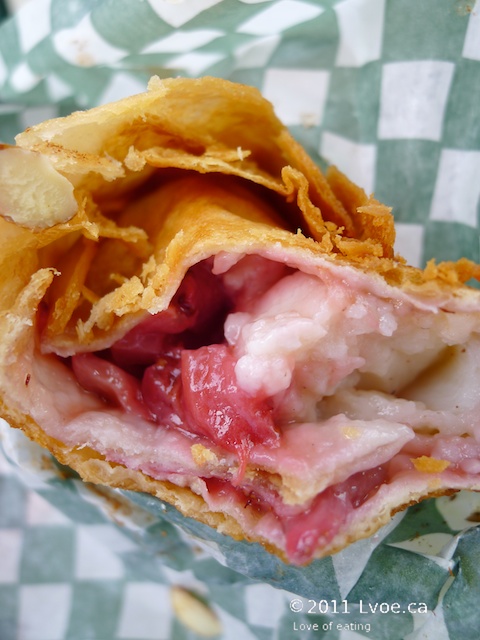 The Empanada Lady will give it a drizzle of honey and a sprinkle of cinnamon and almonds before relinquishing custody of the deep fried tortilla. It's best to eat these immediately; preferably outside. The tortilla is very light and crispy but not greasy. The filling is not too sweet and the custard adds a little creaminess to this crackly affair.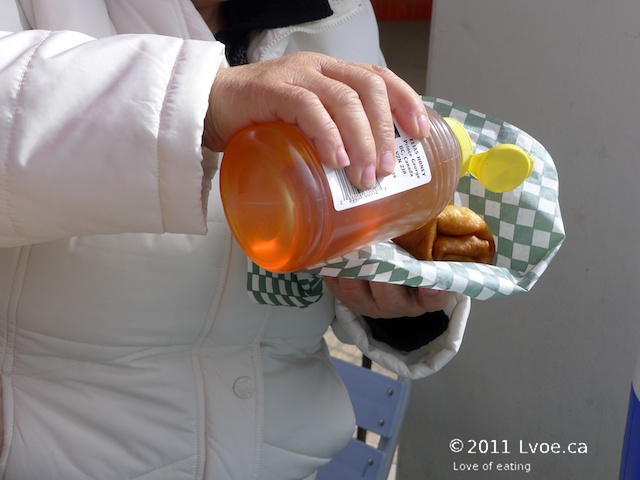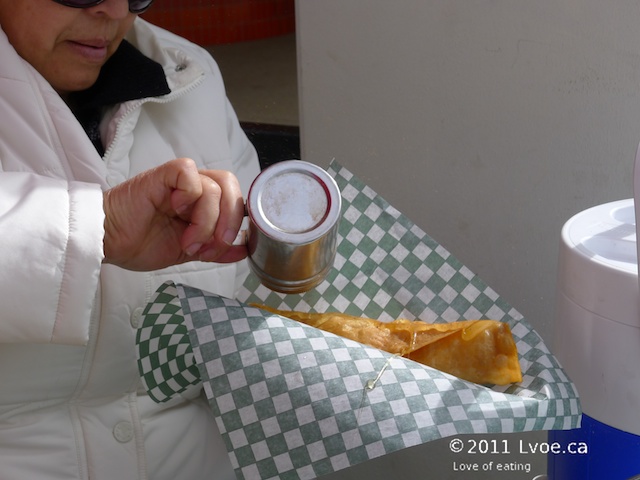 The honey makes the empanada very sticky. No problem, I thought. I have eaten sticky hand-held foods before. Unfortunately, today I have the eating skills of a three year old. How did I end up getting honey on my neck?? It is as if I had been caressing the honey laden treat, and nuzzling it up under my chin. I am trying so hard not to touch things around me, at the same time trying to sweep the crumbs off of me with my forearm. Argh. Bring wet wipes. Do not attempt to eat this in your vehicle.
Banana Empanada ($4.00)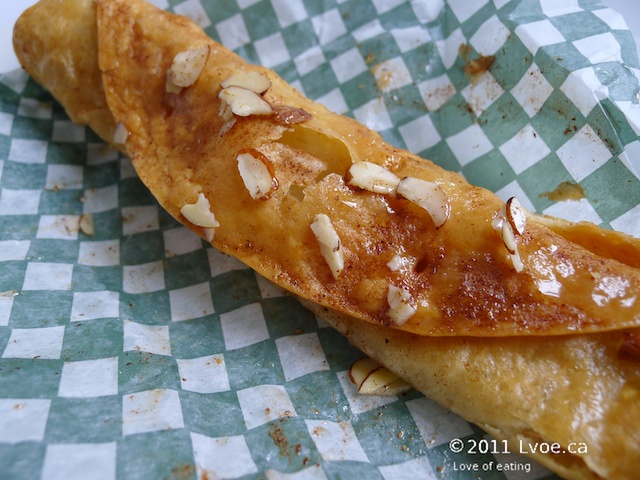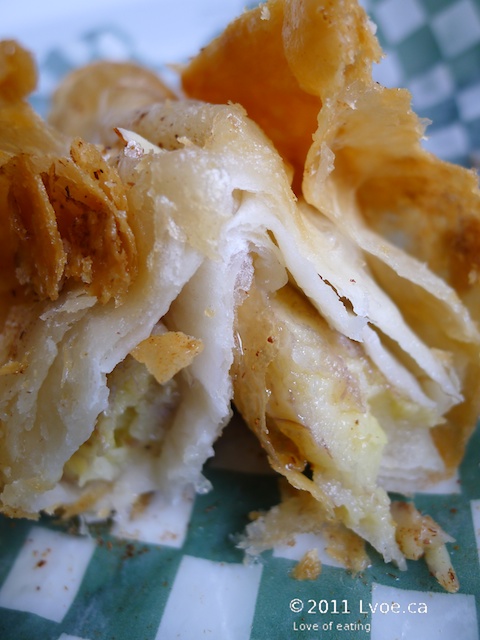 The vendor proudly informs me that she made the empanadas this morning. Oh yes, she certainly did, as the fried roll is still warm in my hands. The banana version is longer and narrower than the strawberry one, which makes it easier to eat. The warm banana aroma is potent. The strong banana taste reminds me a lot of the banana buns we get at Tung Hing Bakery in Vancouver. If I have these again, I may ask the Empanada Lady to hold the honey.
Plum Pockets ($5.00 per bag of 4)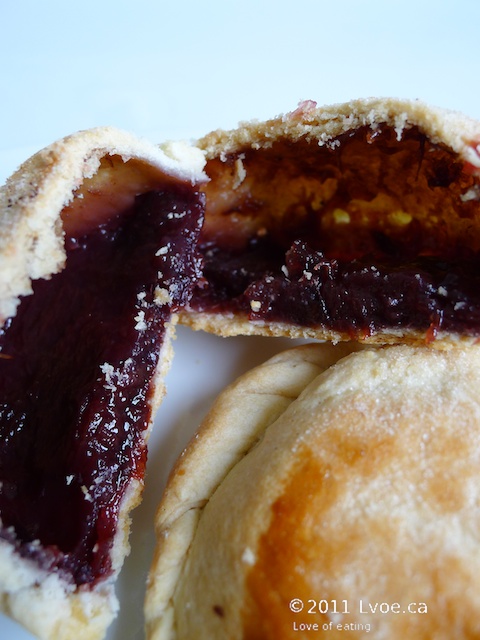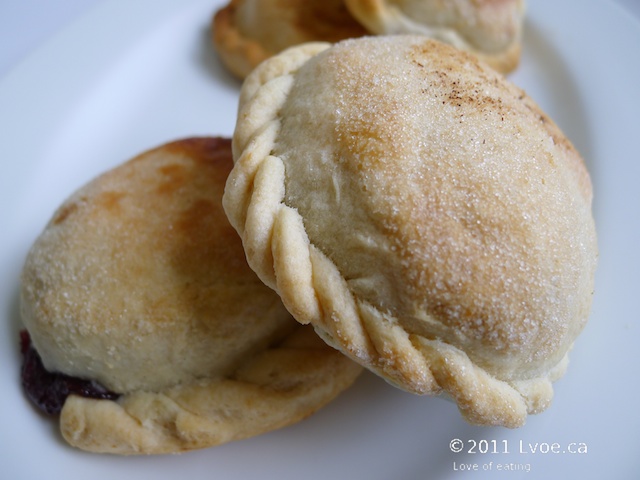 I don't come across plum items very often. Why is that? These hand-held pies are tangy and sweet. I like the pastry. It's light and flakey, and held together well.
Apple Pie Pockets ($5.00 per bag of 4)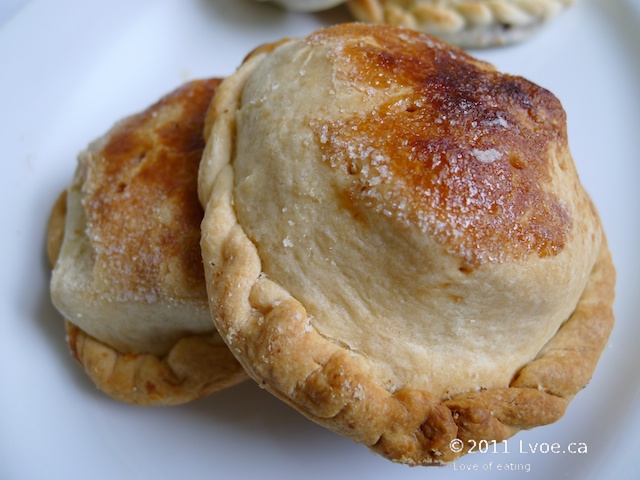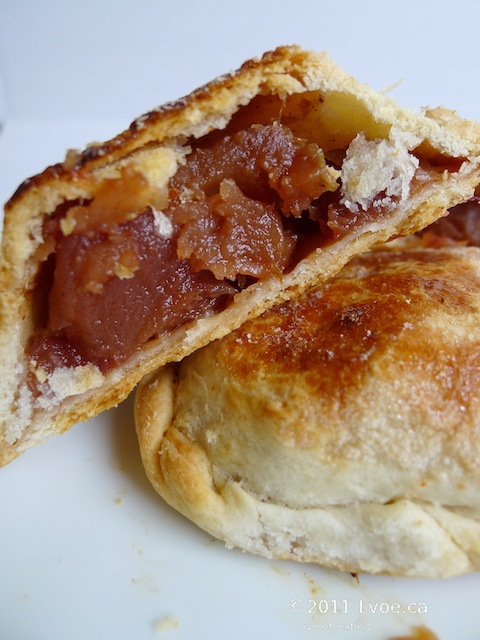 A slice of apple pie for the person on the go. The filling is cinnamon-y sweet with chunky apples. I like that the apple pockets are jammed full of apple. The mini pies make sweet additions to a brown bag lunch too.
I'll be checking out this food cart again this morning, during the Kamloops Farmers Market, to see if the empanada and pie fillings change from Saturday to Saturday.
Locations
Empanada Lady Food Cart
Corner of Third Avenue and Saint Paul Street
Kamloops Farmers Market
Kamloops
,
BC
Canada