The Noodle Station - Reykjavík, Iceland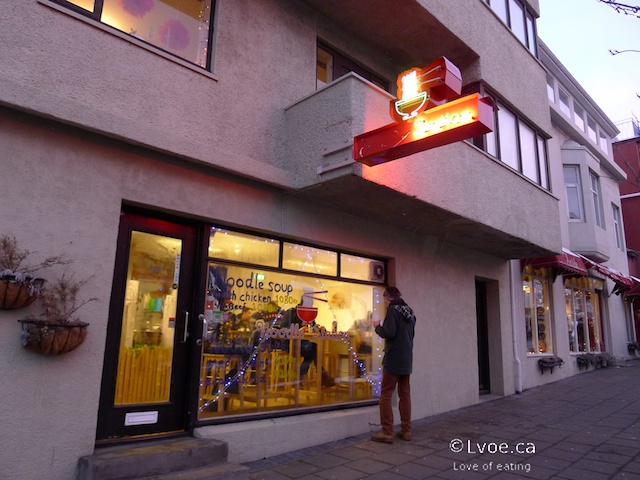 I've mentioned before how much I love the smoked fish here in Iceland, and I love the rye bread here too. Since my time in Iceland is limited, I choose to take advantage of this amazing bounty. I've been eating smørrebrød with various Icelandic lox for several days straight. Every day.
How could I possibly tire of all this delicious salt cured and cold smoked fish? Never!
I am wrong. It is possible to have too much of a good thing.
Today, I can't even look at fish. The very thought of another open faced sandwich for any meal or snack will make me run up the Hallgrímskirkja and scream.
So this brings me to The Noodle Station. The Noodle Station is a Thai style noodle bar in Reykjavík. (I also spied another Noodle Station shop has opened in the neighbouring town of Hafnarfjörður.) The Station serves one dish: a bowl of noodles. There are three choices:
1.) Beef
2.) Chicken
3.) Vegetable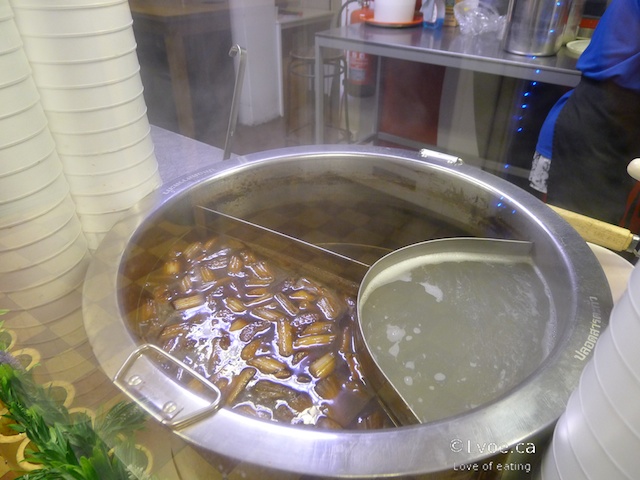 I've strolled past The Noodle Station on many occasions, and it's always elbow to elbow with people and the windows are always steamed up with hot n' heavy broth action. This is a good sign, right? I can smell the aromatics of the bubbling broth from a half block away. I feel a twinge of excitement in my stomach, as I pick up my pace towards the noodle bar.
Beef Noodle Soup or Kuay Teow Neua Nam Khon (1080 ISK, approx $8.30 CAD)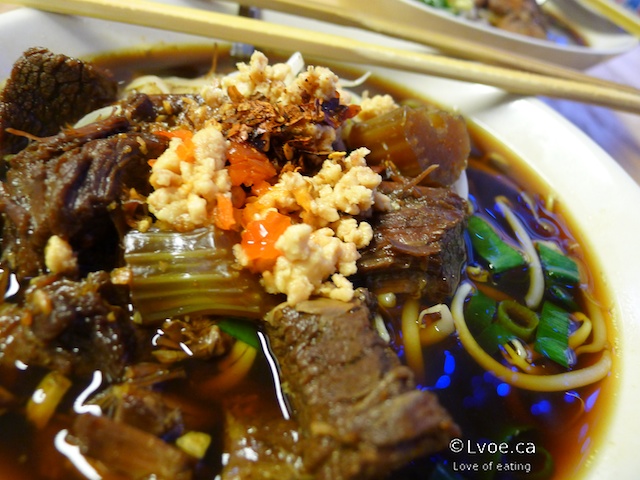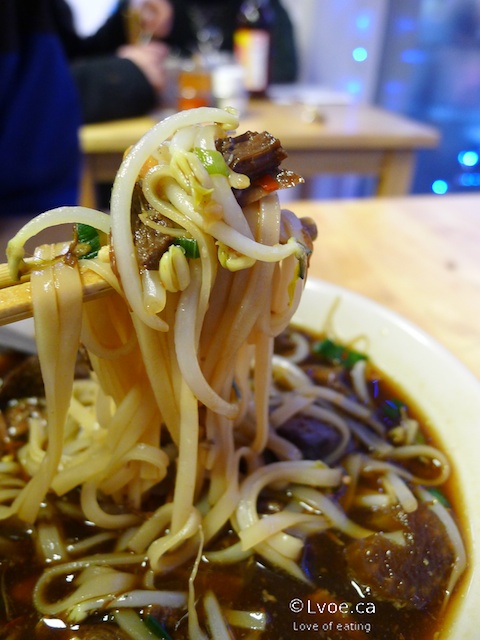 The beef pieces are generous and slow cooked tender. The kind of tender that feels like the beef has been slowly braising in a cauldron of goodness since the early morning. Broth is what makes or breaks most soupy noodle dishes, and Noodle Station's broth rocks. The soup is deep, heady and complex, and is a challenge to describe. It's sweet, yet spicy, a little anise-y and clove-y and perhaps a little ginger-y or galangal-y...
Chicken Noodle Soup (1080 ISK, approx $8.30 CAD)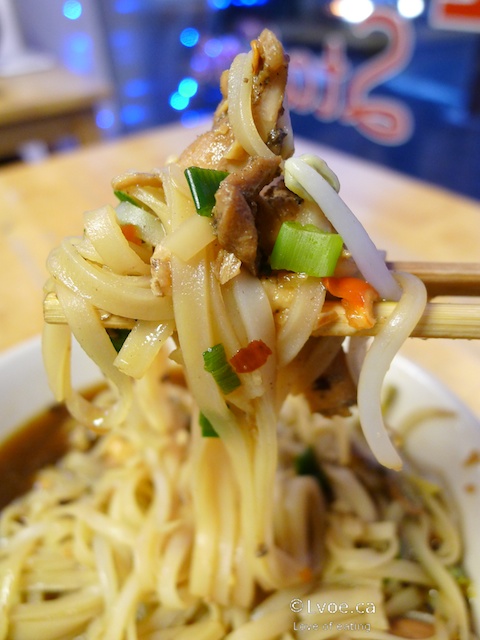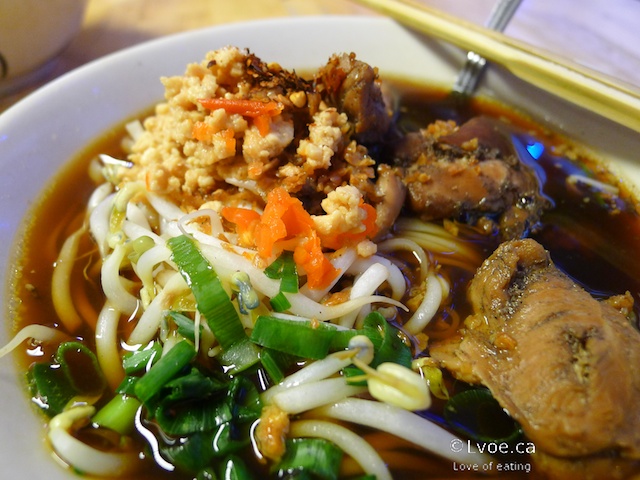 The poultry pieces here are similar to the beef above, in that they are so darn tender. Similar flavours in this bowl. I'm pretty sure there is only one broth for all the noodle variations. So whether you choose beef, chicken or just vegetables, they're all swimming in the same soup.
The Noodle Station space is no frills, simple and compact. They can accommodate approximately a dozen noodlers at a time. It doesn't take long to inhale a bowl of noodles so even if the seats are fully occupied, the wait for a table isn't very long.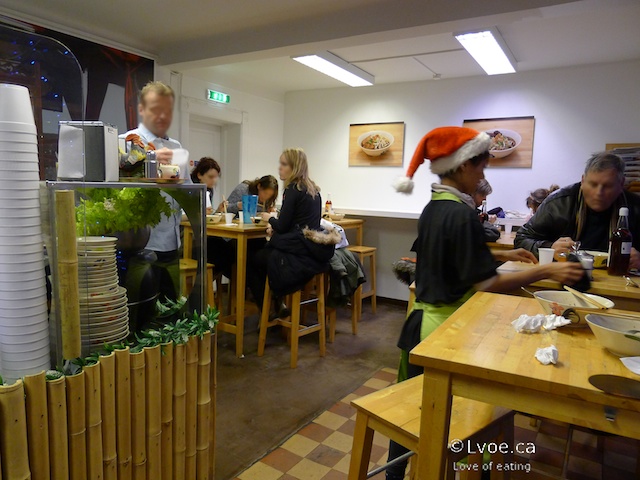 Fun Fact: Did you know Iceland has a ridiculously low crime rate? Folks here seem to trust one another not to be a-holes to each other. Isn't that refreshing...and civilized?
I only mention this because it seems to be quite normal for parents leave their infants outside in the pram while they go inside for a coffee or a bowl of noodles. I witness this practice at least once a day at various businesses downtown. Oh, don't worry the babies are always properly attired in snowsuits or some other cold weather-appropriate garb. The care givers are usually seated by a window seat. Probably to make sure the pram doesn't catch a particularly strong gust of wind and roll away.
See? Look at this: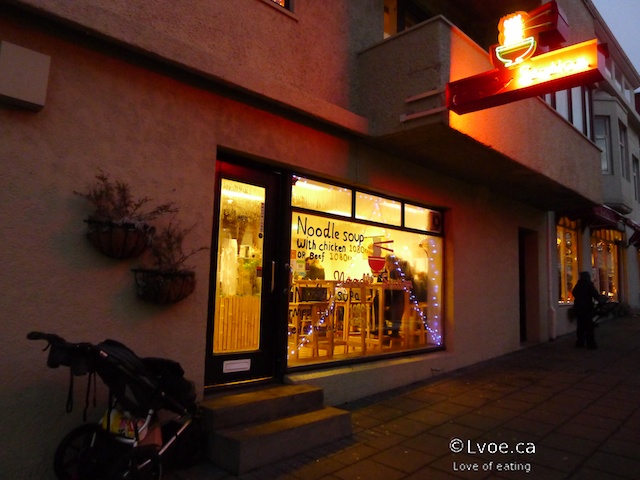 Yes, there's a baby in there next to the steps.
As I exit the Noodle Station and step down onto the sidewalk, I pass by a little bundle of joy sleeping soundly, while his parental units are inside soundly slurping one of the tastiest bowls of noodles in Iceland.
The Noodle Station hours:
Everyday 11:00am – 10:00pm
The Noodle Station Facebook click here
Location
The Noodle Station
Skólavörðustíg 21a
Reykjavík
101
Iceland