The Noble Pig Brewhouse - Kamloops, BC
This was a drive-by discovery. We were coming back through town after buying some plant pots at Art Knapp and happen to drive down this end of Victoria Street.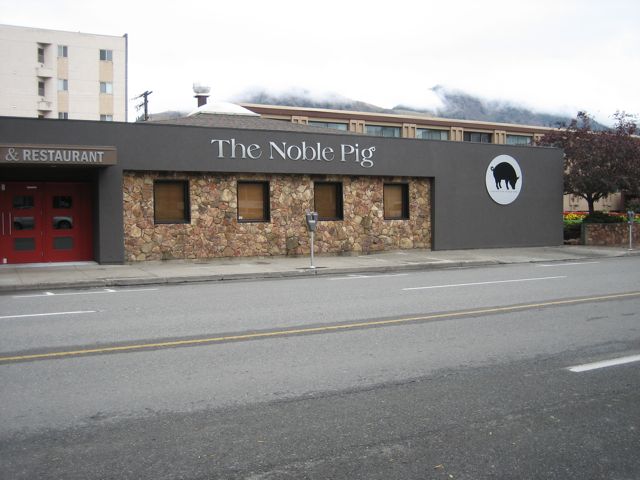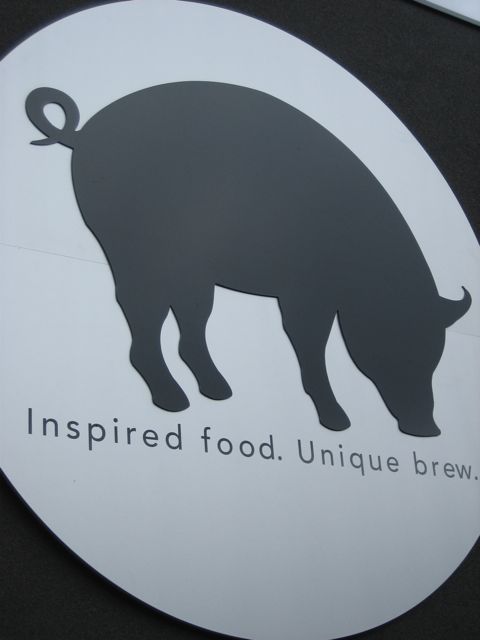 It looked intriguing. I couldn't recall if it was there before or not. I did some internet searching at home and found that it is in fact a newly opened restaurant, and is attached to the Kamloops Conference Centre. The new micro brewery has an active FB page, and a website.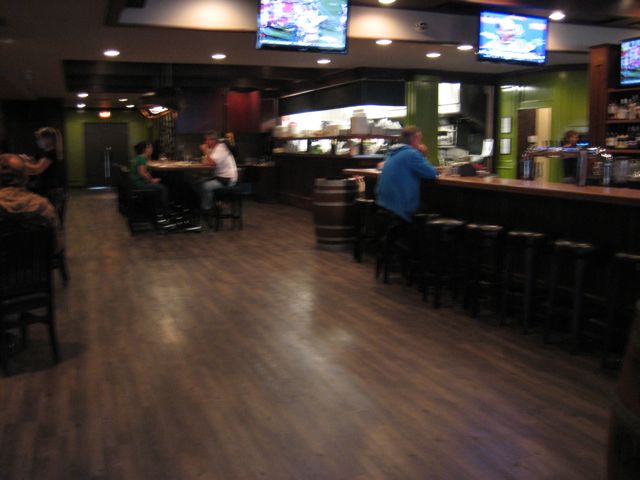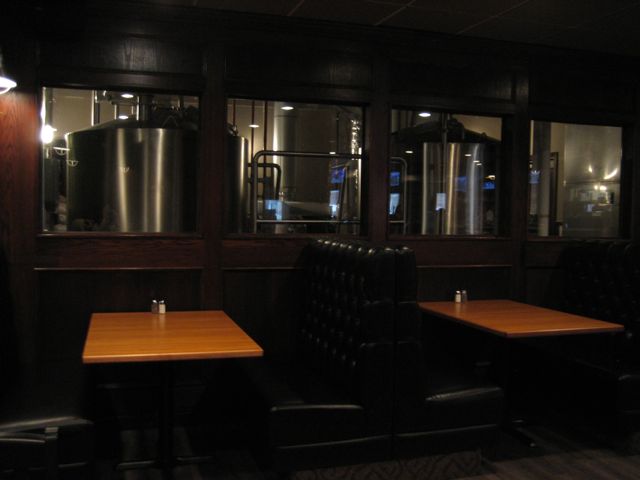 The space is fairly large and open. There is a lot of room for standees in the evening, with ample booth seating around the perimeter of the restaurant.
There were only a few patrons at the bar when we headed in. We were left to seat ourselves.
I'll tell you folks straight up: I'm only here for the food. I'm not a beer drinker and I won't pretend to be. I did sample a micro sip of each chosen brews on the paddle, but sadly all the brewmaster's hard work is lost on me. So I brought along my beer drinking, eating friend to comment on the ale and lager portion of this blog entry. DL has made other blog-within-a-blog entries here in the past.
Tasting Flight ($6.00)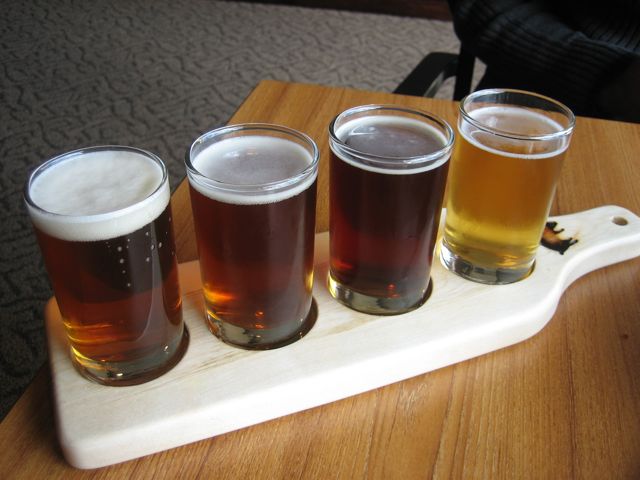 I don't know beer, but I know great value. This paddle of samplers was a wicked deal. A choice of 4 for 6 bucks! It's perfect if you want to pair a different beer with each course of your meal.
Blog within a Blog
The "House Lager" was notably jejune; adorable only to a tone deaf guzzler. As a fragment of the unabridged mechanism, it malfunctions, but de rigueur as a prologue to the "Extra Special Bitter". Its inceptive wine essence ascends to chocolate suggestions; stippling an atmosphere of warmth, cultivating the "Belgian Pepper Ale". Tippling brings mellifluous redolence of pepper to the simpatico as recapitulation. As an eventual concatenation, the "Pursuit of Hoppyness" is actualized with a note of vinegar that crescendos a legacy of efflorescent bitterness on a poetic timber of beer.
Okay, mental note: don't ask DL to do anymore blog-within-a-blog entries...In my own terms: DL thought the house lager was pretty standard. He really enjoyed the remaining three selections in this order 1. Georges' Extra Special Bitter 2. Pursuit of Hoppyness 3. Belgian Pepper Ale. There is a wonderful slightly bitter aftertaste in the Pursuit of Hoppyness; if you wait a bit after you swallow your sip (or glug,) the intensity of the aftertaste will become more significant. Very interesting. He will definately be back for more of the Extra Special Bitter and to try the two others that we missed: the Mocha Porter and the pilsner.
Crispy Fried Pickles ($4.95)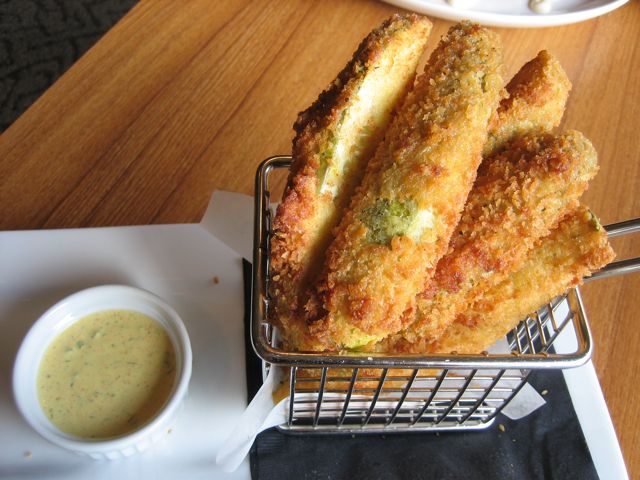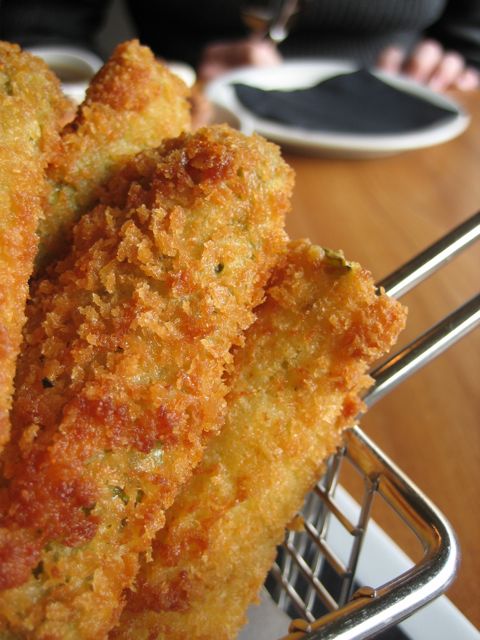 I can't help but visualize Snooki talking about her encounter with the breaded cukes when I hear the name: deep fried pickles. Argh, I can't get the association of fried pickles and Jersey Shore out of my head. And that's too bad... for the pickles. I love dill pickles. The Noble Pig has good dill pickles. They're are briney, crunchy and large. The cukes were quartered, but each quarter was closer to the size of half of a regular pickling cuke. The ranch dill sauce didn't add much to the pickle, but I can't say it took anything away either. The strong dill and brine of the pickle just overwhelmed the flavour of the dip. This would be a good lingering snack for a beer drinking table of friends. I can see maybe a group of people sharing a spear or two, but I found it to be a bit too much pickle and sodium for two people to share as a starter.
Stuffed Yorkshire Puddings ($7.95)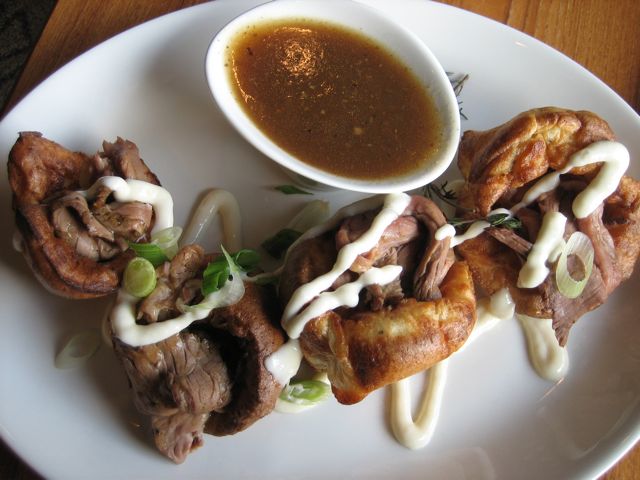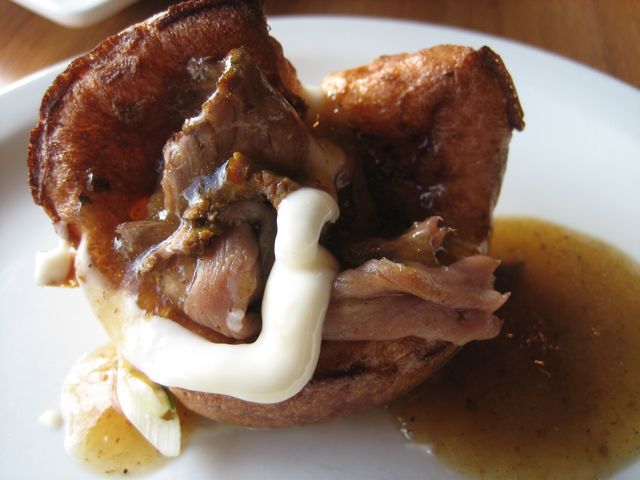 These were fantabulous. Our server shared with us that the puddings are made every morning by a local lady that comes into their kitchen to whip up yorkshires. The yorkies were eggy and soft inside. They were filled with thin slices of perfectly medium rarish beef, creamy horseradish drizzle and some green onions for garnish. Splash a bit of side gravy on and you're good to go. It's much like a prime rib roast dinner all at once in your mouth.
Braised Lamb Shanks ($19.95)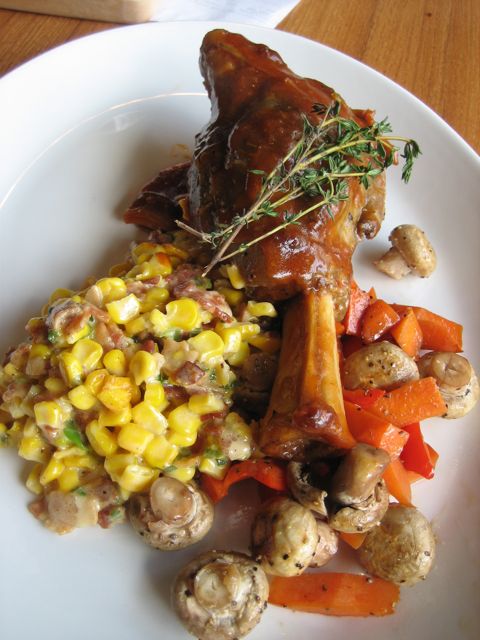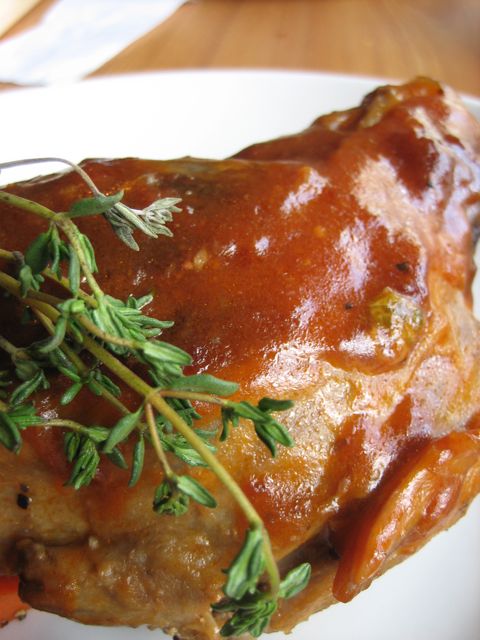 We inquired about the ingredients and there seems to be some effort by the Noble Pig to use BC grown produce, but the beef comes from Alberta and this lamb is frozen from Australia. The lamb shank was generally tender where the tendony parts were (my favourite part..) There was some odd bits that tasted dry and stringy, but luckily the sauce really saved those stringy bits. You have a choice of sides. I'm not sure what came over me, but I decided to go for the creamed corn! What? Who under the age of 65 eats creamed corn? I'm sure some of you are visualizing the pale yellow mushy corn slop that rears it's ugly head from time to time at dinners that are reluctantly attended. First of all, this was "bacon" creamed corn. Bacon makes everything better. The small pieces of salty pork fat got together with the sweet corn kernels and hung out in a shallow pool of creamyness. There was a really nice balance of flavours: smokey bacon, sweet corn, and there was a very subtle hint of spice in the cream to have it all make sense. It was my favourite part of this plate. I could eat a bowl of this.
Cubano Sandwich ($11.95)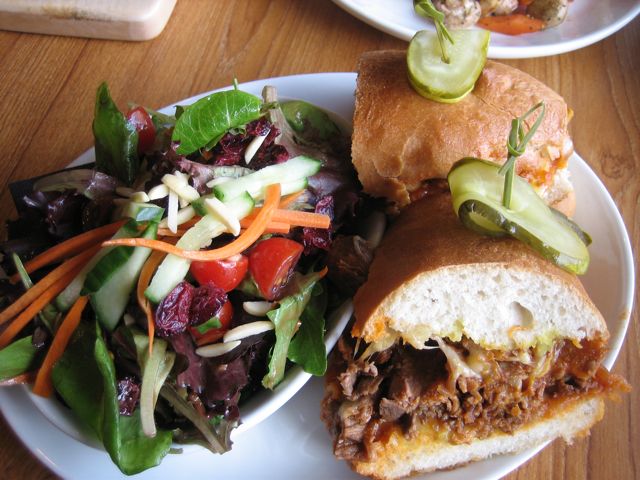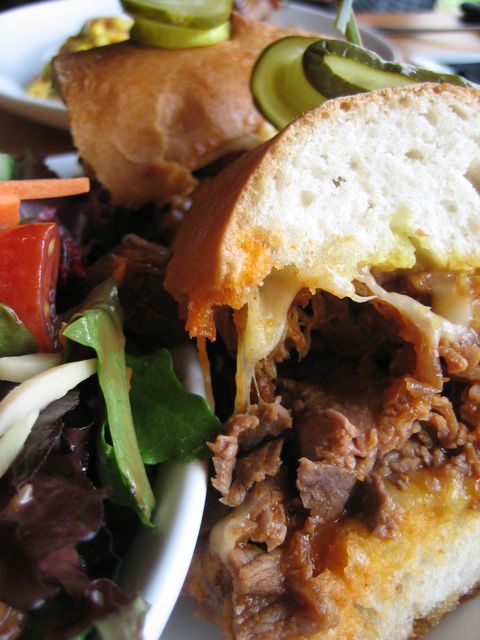 Huge. Filled with not just oink but moo too! The sandwich had a mix of pulled pork, honeyed ham, and beef. Was not expecting the honeyed ham, but a pleasant suprise. The house salad is better than the average mix of baby greens. There was a liberal sprinkling of cranberries, slivered almonds and ridiculously sweet cherry tomatoes. Good ratio of greens versus non-greens. Both entrees were very well seasoned and executed nicely. None of the mains had too much or too little of any one element.
They have one dessert offering. I love the fact that they only offer one dessert. Chocolate Porter Cake. We were extremely curious to try their cake. However, I knew that even if we attempted to share the dessert, it would have pushed the both of us from very-full to food-coma-full. Not a pretty sight. We may go back later this week for dessert only.
I know the Noble Pig has only been open for several weeks but the food we had was solid. I hope it stays focused with the compact menu and doesn't try to over reach. As with all newly launched establishments, it will be interesting to return in some months to see how things may have changed or stayed the same. But for now, it's a good place to stop for good eats, and great beer.
PS: Thank you Noble Pig for changing the face of creamed corn.

Location
The Noble Pig Brewhouse
650 Victoria Street
Kamloops
,
BC
V2C 2B4
Canada