Ploughman's Lunch and Coffee - Kamloops, BC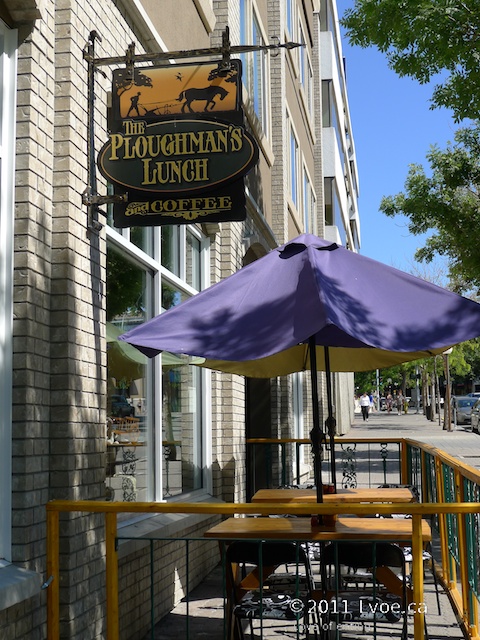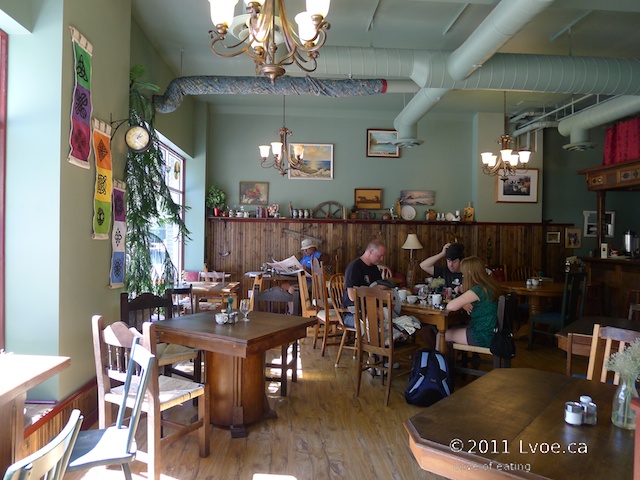 Why hello Kamloops, long time no see. I'm sleeping in my own bed for a few nights. I'm home just long enough for me to do some laundry and repack for another foray on the road soon. Thankfully, I find the time to mosey over to the Ploughman's Lunch and Coffee on Victoria Street in Kamloops' downtown core.
It's a hot sunny day today, which made for a lovely walk on the main drag. We head inside behind two other groups of hungry diners. The bistro is very busy this afternoon, but there are a few bar seats left with a great view of the street to people watch.
Bread and Toppers ($5.50)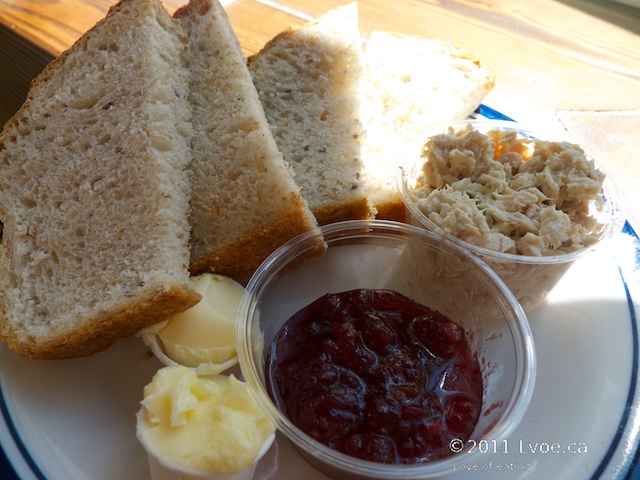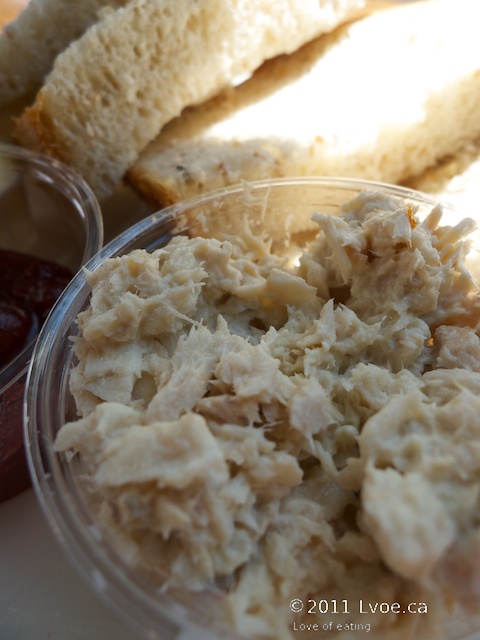 We started with four slices of their homemade bread. This came with our choice of spreads. We choose Tangy Ginger Albacore, Cranberry Chutney and some plain butter as our toppers today. The tuna is tender and moist. I end up eating forkfuls of this fish straight from the dish. The ginger notes aren't vivid, but the tuna is still very good. With some bites, I layer the cranberry on the tuna for my own little sweet and savoury creation. The bread is wonderfully fresh. Butter always proves to be the best topper on good bread.
Vegetable Pot Pie ($5.75)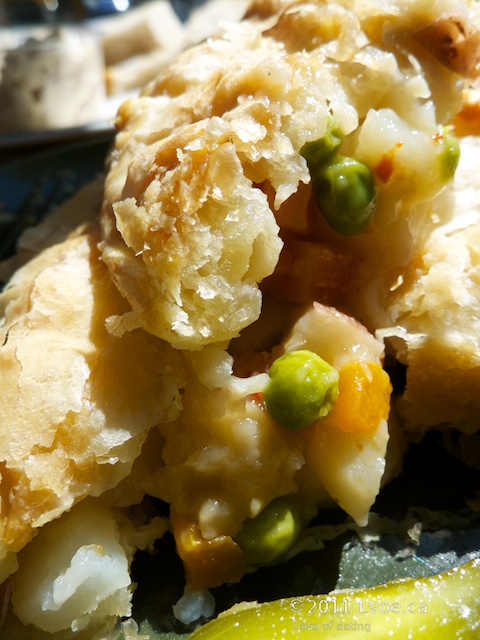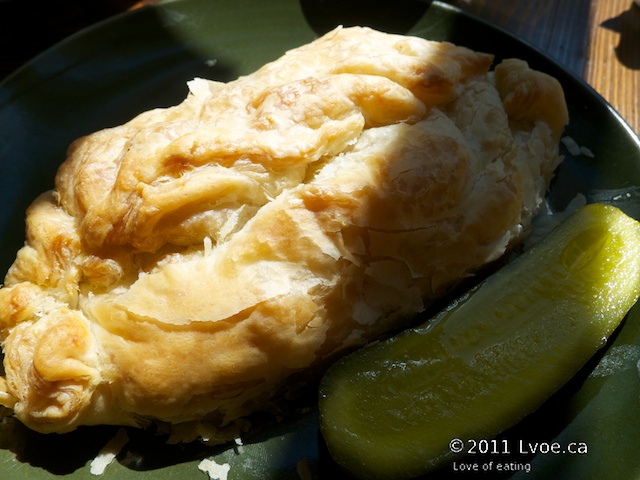 Ploughman's pot pie is a rustic looking pie in an envelope of tender and flakey puff pastry. The mellow filling is hearty with lots of peas, potatoes and carrots. Do you like dill pickles? They have some tasty dills here. DL has a case of the Envy Eyes when spotting my pickle, but is soon relieved to find that another spear is hiding behind the turkey sandwich.
Cold Turkey Sandwich ($5.75)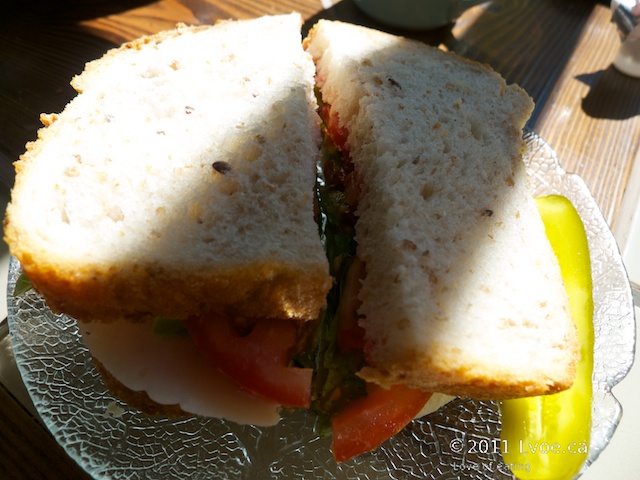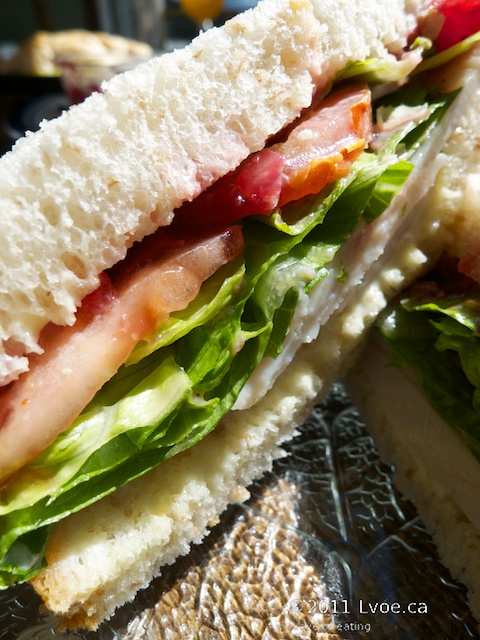 Here we have more of the Ploughman's homemade bread. In between the soft slices, I find tomatoes, lettuce and turkey breast. The cold sandwiches include a choice of Toppers. It's the same selections as we had in the appetizer: Gouda, White Cheddar, Chickpea spread, Cranberry Chutney, Roasted Garlic, Garlic Pesto or Ginger Albacore. In this sandwich, DL pairs the turkey with the Cranberry Chutney. I know, it's a predictable choice, but oh so good together.
Saskatoon Berry Pie ($3.00)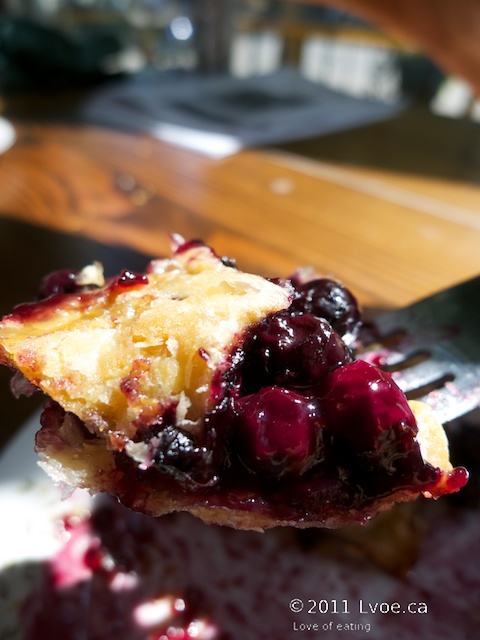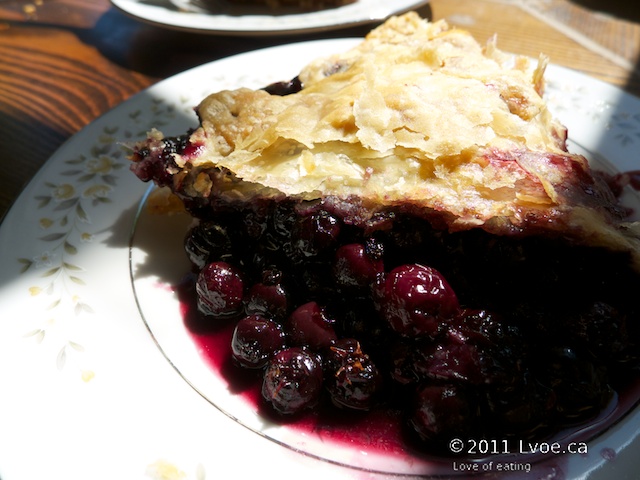 Is it true the city was named after the berry? Our server mentions that they have just pulled a pie out of the oven. Well, well, well…perfect timing. Saskatoon berries. I don't run into a lot of things made with Saskatoon berries. (Same issue with plums…) The crust is golden, thin and delicate. The filling is sweet, with no shortage of petite prairie berries*.
*Everytime I proof read the preivous sentence my mind automatically substitutes "berries" with "oysters". Please, lets not confuse these two items.
Coffee Cake ($3.00)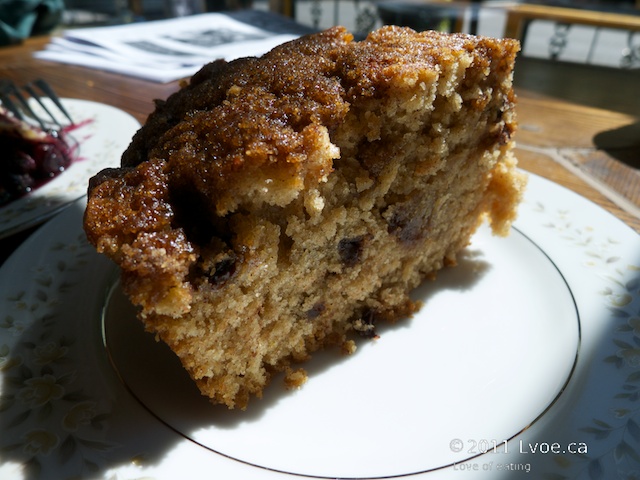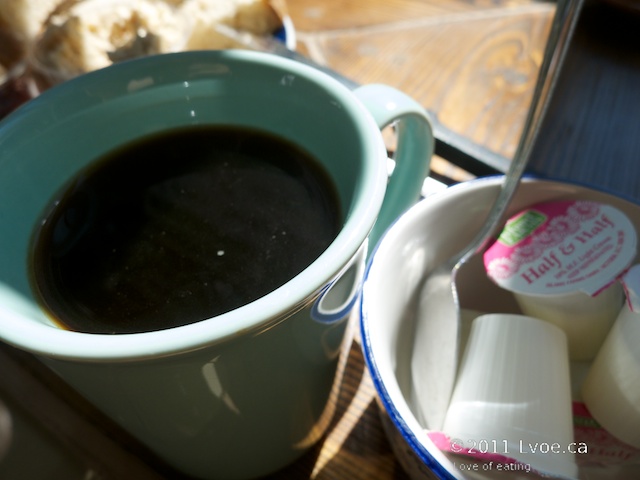 The fat slice is soft and moist. The cake gets along nicely with what else? Coffee. Normally, when I find chipped or broken ceramic ware in a restaurant, I raise an eyebrow. Instead, when I see that my previously broken mug handle had been crudely glued back, I thought it added to the homespun-country charm of the restaurant space. I hold my coffee by the body of the cup, just in case...
During my meal I'm amazed at how many people go into Bikini Bills Tanning salon across the street. I didn't realize tanning is still such big business, even when the Kamloops heat is hovering at least 29 degrees today.
The service at Ploughman's Lunch is welcoming and not rushed. I love kitchens that have the heart and skill to make as much as they can from scratch. How can you not admire that passion and work ethic? Everyone today seems to be dine-in customers, but I wonder if Ploughman's Lunch does brisk take-away business too, for those working on a tight lunch break. I really enjoy downtown Kamloops. The Ploughman's Lunch and Coffee is another reason why.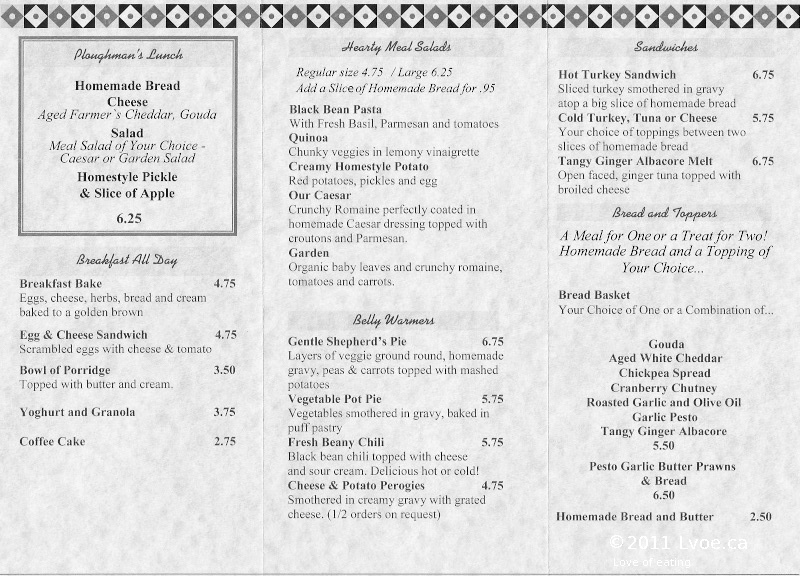 Ploughman's Lunch and Coffee website click here
Ploughman's Lunch and Coffee Facebook click here
Locations
Ploughman's Lunch and Coffee
152 Victoria Street
Kamloops
,
BC
V2C 1Z7
Canada